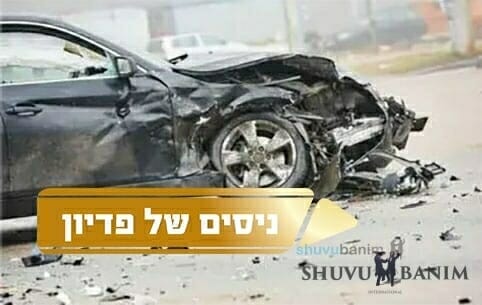 Shlomo HaMelech says, "The wicked man atones for the Tzaddik, and the traitor in the place of the upright" (Mishley 21:18).  On this verse the Metzudos David commentary says, "If death is decreed on the Tzaddik and the decree is cancelled, the attribute of judgement isn't satisfied until the wicked person is given over as atonement (pidyon) for his soul."  That is, if an evil decree is decreed on a person, the attribute of judgement isn't satisfied until it carries out judgement on the person; however, a soul redemption (pidyon nefesh) sweetens and satisfies the attribute of judgement.
A story of rescue from a terrible head-on collision, which very likely would have brought, G-d forbid, ghastly results.
The merciless conduct of state institutions in directing the prosecutor's office and prison service against our Rebbe Rabbi Eliezer Berland shlit"a has caused the Rabbinic Council to establish an Emergency Fundraising Campaign for rescuing the Tzaddik.  The difficult stories of the criminal conduct against Rav Berland in spite of his advanced age (he is currently the oldest prisoner in Israel imprisoned without a trial), and his precarious health state, has brought many to donate.
In the past week, stories started to be publicized about miracles which happened to donators who were aroused to participate in the Emergency Fundraising campaign.  A Litvak Kollel student with limited means from Gateshead, England, related how, despite his difficult financial situation, he donated and miraculously received back more than what he donated.
Just as this story was being publicized, new testimony already arrived of a story of Divine providence from an additional person who donated for Pidyon Shvuyim (Redeeming of Captives).  In his personal testimony he tells how he was saved through miraculous means from a terrible head-on collision!
This is his story:
"The miracle happened to me mamash a half-hour after I gave Pidyon Shvuyim today to our Rebbe Rav Berland.  I finished my hisbodedus and went out in the direction of Ramot to Rehov HaHoma HaShlishit in Jerusalem.  I arrived at the traffic light at a speed of 90 km/h.  I had a green light in front of me and I came to cross the intersection.  Suddenly, a car darted out towards me from the opposite lane at a speed of at least 140 km/h.  The car passed right in front of me and ascended onto a traffic island.  I didn't manage to even see this.  I just saw dust, glass, and broken pieces of plastic flying towards me on the windshield.
"He hit the car next to me and just threw him out of the way, and then continued in my direction, in the ascending direction, in the midst of crushing another car on the way.  For a moment, I was frozen in place.  I got out, and to my amazement there wasn't even a scratch on my car.  People got out of their cars, looked at me, and asked if I was okay, in the midst of them wondering out loud, 'How did he not hit you?'  I didn't absorb that a car passed in front of me at such high speed and didn't hit me.  As it were, the Tzaddik somehow lifted the car into the air and passed it over me.  Unbelievable!  This isn't a hallucination.  This really happened a half-hour ago — I received life as a gift.
"By the way, over the course of the entire week I dreamed about cars that are crashing.  I said to myself every day, 'Today I will drive more carefully.'  I didn't understand what they were hinting to me from Heaven — but, you need to know that a person doesn't give Pidyon Shvuyim to redeem our Rebbe Rav Berland — rather one redeems himself.  This isn't a game.  A person needs to do something for the Tzaddik:  Say the Tikkun Klalli 7 times, Pidyon, pray for the Rav.  A person doesn't know what's decreed upon them.
"A person can easily save his life.  If he had hit me in a head-on collision, it would have been over….
"The driver who caused the collision got out of his car shocked, hitchhiked and fled from the scene.  Afterwards the policed arrived and tried to locate him.  I have no words to describe what happened now.
"May it be His will that each person will be strengthened by this story and give a Pidyon to the Tzaddik.
"All the best.  May we merit to see many more miracles and wonders."
You can listen to the firsthand account HERE
To participate in the Emergency Fundraising Campaign for Pidyon Shvuyim of Rabbi Eliezer Berland shlit"a: click here
To donate by telephone (Hebrew speakers in Israel), call 052-718-4729
or donate in English online HERE or via The Chesed Fund