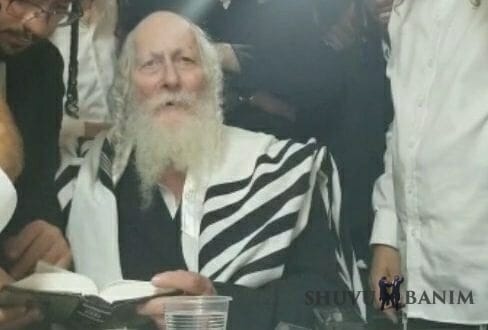 The Good Things Can Already Start Now
Excerpt of comments made by Rabbi Eliezer Berland, shlita, yesterday.
Yesterday, Wednesday, 14th November, 2019, Rabbi Eliezer Berland, shlita, attended a house visit in the Neve Yaakov area of Jerusalem, at the home of Rav Rachamim Bracha. During the visit, he met various members of the public, and also gave over a number of holy words.
Below, we bring the main, translated, points of what he said, particularly in relation to the current difficult situation that Am Yisrael has found itself in recently, with more rocket attacks from Gaza.
Rabbi Berland said:
"Today, it's the yahrtzeit of the Chazon Ish, it's the biggest day of the year. It's possible to receive a spark of the soul [of the Chazon Ish]. We are in the home of Rachamim Bracha. Rachamim has already been with the Rav for 50 years, since he started to stand up and walk.
In another 200 years, there will be the war of Gog and Magog, but the blessings can start to be fulfilled any day.
Gog and Magog can only be fulfilled in 200 years, it's written two thirds. This is like when Shabbat is brought in 40 minutes before shkia (twilight). For example, this week twilight will be at 16:46, so we light candles at 16:06.
Anyone who comes to a shiur of the Rav will live until 200, he will live to 300, to 400, to 500 – everyone will live for 2,000 years.
It's obligatory to be [part of] Shuvu Banim, and to cancel the decrees.
Today, there was a siren in Latrun, and there was in Yesodot, they fired at the army camps. There is an army camp next to Har Nof, they are aiming in the direction of Har Nof. This was at five to five in the morning. We were exactly in the middle of the daf yomi. The whole of Highway 1 is in danger, [people] should travel via the bypass road.
If they want to get to Tel Aviv, so they should travel by way of Haifa or Beer Sheva, and after that, via the Kvish HaHof, (the Coastal Road), Highway 3. No, Highway 2 is the Coastal Road, and Highway 3 is between Hadera to Giha, up to Raanana.
There is no war, this is just for show.
They want to get funding from Iran, and the Iranians have stopped sending them money.
They want to show that they are still involved in the situation. Everyone is telling them to stop – from Egypt, from Hamas – but they want to show the world that they are still relevant, and that they will decide when to stop.
Israel won't decide, because Bibi has an agreement with them. This is called an informal understanding. It's permitted for them to kill up to a million people.
We need to see to it that we will be after this million, or part of the million, then [there will be] techiat hameitim (the revival of the dead). When they heard that Moshe died they got ready for techiat hameitim, but Moshe lived for another 40 years.
In the old days, the army only used to have tzaddikim, not like today, when there are also rashaim (evildoers). The army isn't doing anything. They fire rockets, and more rockets, and they don't do anything.
They are scared to fire [back] even a single rocket.
If we even just launch a single rocket, they will send a million rockets against us. The ikker (main thing) is that the Arabs should fire [rockets]. If the Jews launch a single rocket – oy va voy. Immediately, Russia and America will come to destroy us.
You are also firing rockets?! This is much more terrible than the Arabs, who are only doing it for show. You are taking it seriously!