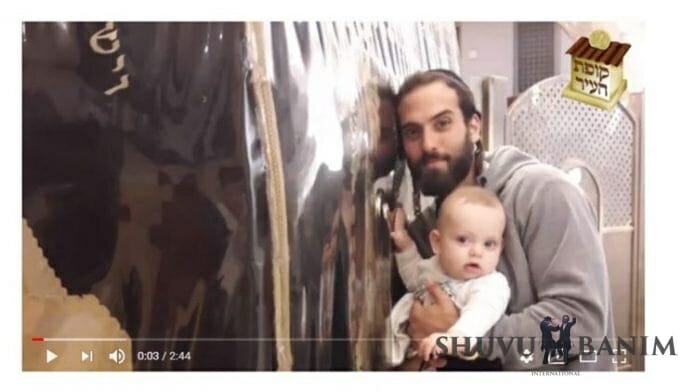 Free a young father trapped in the Ukraine – Pidyon Shvuyim
A few weeks ago, Miriam Amar and her husband Yitchok, were in the Ukraine, visiting the different kivrei tzaddikim. Miriam's mother and young baby were also along for the trip.
Yitzhok was driving on one of pitch-black roads in the Ukraine when suddenly out of nowhere, another car appeared. Miriam takes up the story:
"The roads there are very dark at night, and there is no lighting. We were driving when suddenly a car that had been on the side of the road merged onto the highway without signaling.
The next thing I knew the car had crashed into the bushes and we were all bleeding. My baby was crying. I thought it was the end. My husband screamed for help but no one came. We were waiting there for almost an hour, until someone noticed.
The three Ukrainians in the other car died in the crash.
"When the police finally arrived I thought we were finally saved. But instead of taking my husband to the hospital to check on his injuries, the Ukrainian police took my husband straight to jail, as the driver of our car.
Yitzchok had done nothing wrong, but how could we prove it to them? We were Israelis, religious Jews, in the middle of nowhere in the Ukraine. So they took him and locked him up.
The jail is a terrible place.
"My husband shares a cell with two Muslims. People are stabbed there every day. He is not allowed to contact me.
The jail has ruled that they will release him for $200,000 – an amount of money that we could never afford. I am begging you, if you can, please help me to do the mitzvah of pidyon shvuyim and bring Yitzchok home. For the sake of his life, to save him from the horrors of jail, and for our family.
I am alone with our baby, unsure how or if we will see his father again. Please help us. And you should only be blessed with safety and health," concluded Miriam.
You can see Miriam speaking directly (in Hebrew) on Youtube at this link:
Go HERE to donate online at the
Chesed Fund website.
Donations can also be made to Kupat Ha'Ir Foundation # 7135, by phone at 1-888-587-2842, or by mailing a check to American Friends of Kupat Ha'ir, 4415 14th Avenue, Brooklyn, NY 11219