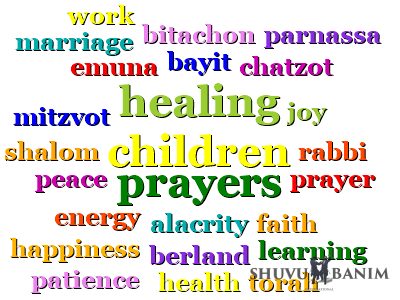 Rabbi Berland's Prayer to Have God-fearing Children
#487
TO MERIT THAT ALL OF MY SONS AND DAUGHTERS WILL HAVE A LISTENING HEART AND AN ATTENTIVE EAR AND THEY WILL BE G-D FEARING AND STUDY TORAH WITH JOY AND WITH UNDERSTANDING AND THEY WILL MERIT ALACRITY
Master of the world, who can do anything, and that there is nothing that You cannot do, grant me the merit of a heart that listens and to have an attentive ear.
And that all of my sons and daughters until the end of the generations should have a fear of heaven, busying themselves in Torah and Mitzvot.
And that all of them will learn Torah for the sake of heaven, with full understanding and with a full vigor.
As it says: "abundant waters cannot extinguish the love and rivers will not flood it. If a man will give all the wealth in his house with love, will they greatly embarrass him?" 
And may I and my sons and my daughters and my great grandsons and my great granddaughters until the end of all the generations merit fulfilling the verse:
"
Yehudah ben Teima says, be light (130) like an eagle (570), run (290) like a dear (122) be strong (211) like a lion (231) = 1559
".
And through this, "He watches (361) from (90) the windows (505), He peeps (230) from (90) the lattices (283) = 1559" and through this we will merit to salvations, because also "because (65) of the fathers (409) that carried out (676) Your will (366) = 1559."
====
487#
לִזְכּוֹת שֶׁכָּל בָּנַי וּבְנוֹתַי יִהְיֶה לָהֶם לֵב שׁוֹמֵעַ וְאֹזֶן קַשֶּׁבֶת וְיִהְיוּ יִרְאֵי ה' וְלוֹמְדֵי תּוֹרָה בְּשִׂמְחָה וּבַהֲבָנָה וְיִזְכּוּ לִזְרִיזוּת
רִבּוֹנוֹ שֶׁל עוֹלָם כֹּל יָכוֹל, אֲשֶׁר לֹא יִבָּצֵר מִמְּךָ מְזִימָה, זַכֵּנִי לְלֶב שׁוֹמֵעַ, לְאֹזֶן קַשֶּׁבֶת, וְכָל בָּנַי וּבְנוֹתַי עַד סוֹף כָּל הַדּוֹרוֹת יִהְיוּ יִרְאֵי הַשֵּׁם, עוֹסְקִים בַּתּוֹרָה וּבַמִּצְווֹת, וְכֻלָּם יִלְמְדוּ תּוֹרָה לִשְׁמָהּ, בַּהֲבָנָה מְלֵאָה, וּבְחֵשֶׁק מָלֵא, כְּמוֹ שֶׁנֶּאֱמַר "מַיִם רַבִּים לֹא יוּכְלוּ לְכַבּוֹת אֶת הָאַהֲבָה וּנְהָרוֹת לֹא יִשְׁטְפוּהָ, אִם יִתֵּן אִישׁ אֶת כָּל הוֹן בֵּיתוֹ בָּאַהֲבָה בּוֹז יָבוּזוּ לוֹ", וְאֶזְכֶּה אֲנִי, וּבָנַי וּבְנוֹתַי, נֶכְדַּי וְנֶכְדוֹתָי, נִינָי וְנִינוֹתָי, עַד סוֹף כָּל הַדּוֹרוֹת, לְקַיֵּם מַאֲמָר "יְהוּדָא בֶּן תֵּימָא אוֹמֵר הֱוֵי קַל 130 כַּנֶּשֶׁר 570 רָץ 290 כַּצְּבִי 122 גִּבּוֹר 211 כַּאֲרִי" 231 = 1559, וְעַל יְדֵי זֶה "מַשְׁגִּיחַ 361 מִן 90 הַחֲלּוֹנוֹת 505 מֵצִיץ 230 מִן 90 הַחֲרַכִּים" 283 = 1559, וְעַל יְדֵי נִזְכֶּה לִישׁוּעוֹת, כִּי גַּם 43 "בִּגְלַל 65 אֲבוֹת 409 שֶׁעָשׂוּ 676 רְצוֹנֶךָ" 366 = 1559.
====
Visit the A-Z of prayers by Rabbi Eliezer Berland, HERE.
====