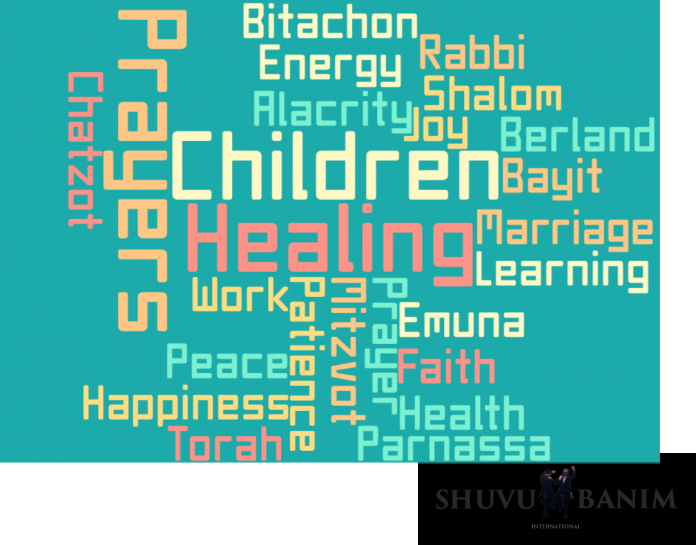 Rabbi Berland's Prayer To Not Despair
#429
NOT TO DESPAIR 
Master of the world, who can do anything.
In the merit of my dealing with the difficult situations in my life and not falling into any despair, may the following verse be fulfilled in me:
"The sun, the moon and the stars are bowing down to me."
And I should merit the blessing of intellect. And I should merit to say the verse: "Is it for eternity that you reject me, Hashem, nevermore to be appeased again?"
====
תפילה: 429
לִזְכּוֹת לְהִתְמוֹדֵד בְּכָל מַצָּבֵי הַקֹּשִׁי בַּחַיִּים וְלָדַעַת שֶׁה' לְעוֹלָם לֹא יַעֲזוֹב אוֹתִי
רִבּוֹנוֹ שֶׁל עוֹלָם כֹּל יָכוֹל, בִּזְכוּת שֶׁאֶתְמוֹדֵד בְּמַצָּבִים הַקָּשִׁים בַּחַיִּים שֶׁלִּי, וְלֹא אֶפּוֹל בְּשׁוּם יֵאוּשׁ, יִתְקַיֵּם בִּי הַפָּסוּק "הַשֶּׁמֶשׁ 645 וְ-הַיָּרֵחַ 223 וְהַכּוֹכָבִים 109 = 977 מִשְׁתַּחֲוִים לִי", אֶזְכֶּה "לְבִרְכַּת 622 הַשֵּׂכֶל" 355 = 977, וְאֶזְכֶּה לְהַגִּיד אֶת הַפְּסוּקִים "הַלְעוֹלָמִים 231 יִזְנַח 75 ה' 65 וְלֹא 37 יוֹסִיף 166 לִרְצוֹת 726 עוֹד" 80 = 1380.
====
Visit the A-Z of prayers by Rabbi Eliezer Berland, HERE.
====
Prayer to believe I have the strength to overpower the evil inclination