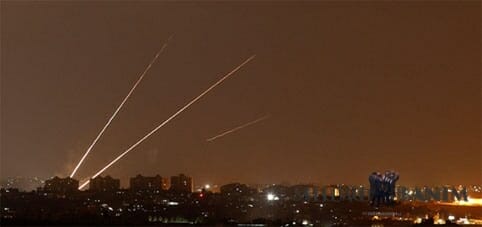 Self-sacrifice Prevents Destruction
Excerpt of a shiur given by Rabbi Eliezer Berland on the 14th of Cheshvan, 5780, (November 13, 2019) at Chatzot, PART 1.
Rabbi Berland, shlita, recited the following psalm verse by verse, with the community, and then gave over the following words of explanation.
====
Psalm 74:
A maskil by Asaph. Why, O God, have you abandoned us for an eternity? Smolder does your anger against the flock of your pasture.
Remember your congregation which you 'bought' long ago. You redeemed the tribe of Your heritage, Har Tzion, where Your Shechina
Lift Your footsteps to wreak eternal ruin, everything harmed by the enemy in the Sanctuary.
Roared have Your oppressors in the middle of Your meeting place, they made their signs for signs.
It was regarded as bringing to the Heavens above, in the thicket of trees the axes. And now? All it's ornaments together, with hammer and chisel, they beat down.
They have sent up in flames Your Sanctuary, to the ground have they desecrated the Abode of Your Name.
They said in their heart, their rulers all together, they have burned all of God's meeting places on earth.
Our signs we have not seen; there is no longer a prophet. And there is no-one amongst us who knows how long, until when, O God, the tormentors will revile. Will the foe blaspheme Your Name until eternity?
Why do You withdraw Your hand, even Your right hand? Remove it from within Your bosom!
For God is my King, from the days of old, performing acts of salvations in the midst of the earth.
You shattered with Your might the sea. You smashed the heads of sea serpents upon the water.
You crushed the heads of Leviathan, You will serve him as food to the people going to the desolate wilderness.
You split open fountain and stream, You dried rivers that are mighty.
Yours is the day, also Yours is the night. You prepared the luminary and the sun.
You established all the boundaries of earth, summer and winter, You fashioned them.
Remember this: The foe reviled Hashem, and the degenerate people blasphemed Your name.
Do not deliver to the wild beast the soul of Your turtledove, do not forget the life of Your poor for eternity.
Look to the covenant, because the dark places of earth are filled with habitations of Hamas (violence).
Don't let them turn back the oppressed in shame! Let the poor and the destitute praise Your name!
Arise, O God, champion Your cause! Remember Your disgrace from these degenerates, all day long!
Don't forget the voice of Your oppressors, the tumult of Your opponents, which rises always.
====
[In Parshat Vayera], it says the words 'vayar' (And he saw), twice:
"And he saw three angels, and he saw them, and he ran towards them."
The Perach Shoshana says that Avraham runs towards anyone who is murdered al kiddush Hashem (to sanctify God's name.)
Everyone who was on the way to Auschwitz – on the trains, Avraham was running to meet him. Avraham, Yitzhak and Yaakov were all running to meet him.
[Text is missing] Chananya, Mishael and Azaryah[1], and so there are three tri-fold leaves on the myrtle plant. (I.e., on every row of leaves on a myrtle you will find three leaves.) This represents Chananya, Mishael and Azaryah.
Because Chananya, Mishael and Azaryah could have prevented the destruction [of the Temple].
====
A person can stop the churban (destruction of the Temple)!
Now, it's chatzot, exactly now, it's chatzot (halachic midnight). It's possible to stop the churban, all of the decrees!
We said that in another 15 minutes, the whole inyan (matter) of the rockets will be stopped. The last rocket will be at five minutes to 12. After that, there won't be any more rockets until next year. Until next year, the 15th of Cheshvan.
====
They need to make a little noise once a year, but not more than that. So, one girl 8 years old is unconscious, one woman had a panic attack, and two people were injured in Gan Yavneh, when the rocket fell next to their car.
And there were those who were driving in their car, and they saw that a rocket was falling on top of them – but they successfully escaped.
====
Translated from Shivivei Or #119.
FOOTNOTES:
[1] These were three holy Jews, contemporaries of the Prophet Daniel, who served in Nevuchadnetzer's court in Babylonia. When Nevuchadnetzer built a massive statue, he demanded that all of his subjects should bow down to it, on pain of death. Chananya, Mishael and Azarya refused down to it, and were thrown into the furnace. But a miracle was done for them, and they emerged unharmed. See Daniel Chapter 3, and Sanhedrin 93a.
====