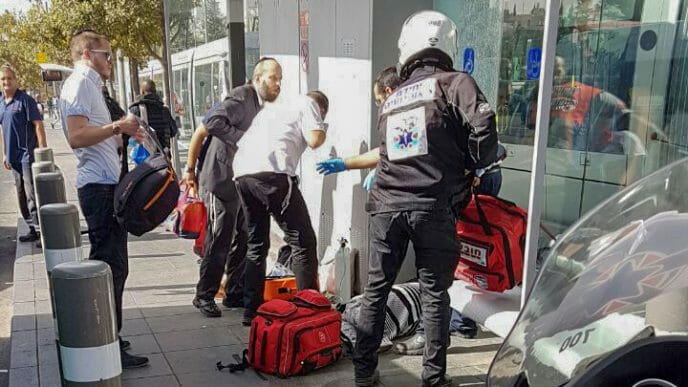 "Those who are kind to the cruel will end up being cruel to the kind…"
The ongoing persecution of Rav Eliezer Berland, shlita, by the Israeli government has taken another stunning turn, as it transpired that the same judges who have repeatedly refused the Rav's request to be freed or placed under house arrest let loose the Arab killer who murdered two people in cold blood, and injured five more in a shooting in Jerusalem on October 9, 2016.
In no less than seven court appearances, a decision was handed down to free the Rav, but certain people were so angered by this that they quickly arranged for these rulings to be overturned. Amongst the judges who were more than happy to overturn the decision to have the Rav freed, Ms Joya Skappa-Shapiro stood out as one of the people who piled on a number of difficult legal arguments – moments before the Rav was about to be released – as to why he should be kept in prison, stating that he was a 'danger to society'.
This was the courts ruling "The decision to release Rabbi Berland either completely or to house arrest during investigation is overruled as he is a charismatic man and can have a strong influence on his surroundings" – In other words a Rosh Yeshiva who teaches Torah and has influence on his thousands of students is considered a danger to Israeli society.
Nevermind that the Rav was already 80 years old, and not in the best of health. Nevermind, that there was no evidence against the Rav whatsoever.
The ongoing official persecution and intimidation of the Rav has been dressed-up with the lies that the elderly Tzaddik Rav Berland is a 'danger to society', and had to be locked up for the Israeli public's own good.
To keep the elderly Rav illegally in prison, the judges in question used legal statutes that are designed to keep suspected terrorists locked-up, while the Israeli government finds enough evidence to have them formally tried in court.
But then, after the shocking drive-by shooting on October 9, 2016 at Jerusalem's Ammunition Hill, which left two people dead and five wounded, it turned out that exactly the same judges who were so careful to imprison Rav Berland, had freed the Arab terrorist who committed the latest atrocity.
Israel's Channel 2 reported that: "Just last month, Judges Hagit Mac-Kalmonovitch and Joya Skappa-Shapiro, who serve in the Jerusalem District Court, decided as part of their deliberations to postpone the jail sentence of the terrorist who committed the attack at Ammunition Hill. They also decided to lift the restrictions on the terrorist that were preventing him from entering Jerusalem."
The terrorist was 39 year old Musbah Abu Sbeih. On the morning of the attack, Abu Sbeih was meant to have turned himself in to start his postponed four month jail sentence [how is that, for a light sentence?] that he received after being convicted in January 2015 on numerous counts of inciting terrorism and supporting terrorist organisations.
January 2015 was 20 months ago.
In the meantime attorney Micha Avni, who is the son of Richard Lakin, HY'D, who was one of the people murdered in the attack at Ammunition Hill called for the judges involved in the matter to be removed from their post.
Avni is reported as saying: "The decision makers have to see to it that the nation's judges are concerned with protecting the security of the residents and the case in point is a serious one. The court granted the terrorist a five-month hiatus prior to reporting to prison, sufficient time to plan the final attack, because he had to work in his father's store, or any other reason given. The judge preferred the welfare of the terrorist over the security of the nation."
[quote_box_right]Read the courts decision of Judge Joya Skappa-Shapiro with regards to terrorist who openly incite terror "words of praise and encouragement for terrorist who carry out acts of terror in not incitement to terror".
In another verdict, Judge Joya Skappa-Shapiro, ruled against a Jewish Dr. who was attacked by a group of Arab women yelling "Allahu Akbar" while police were unwilling to get involved.[/quote_box_right]
So now, let's compare and contrast these two cases, to see what's really going on with the Israeli 'justice' system:
Rav Berland: An 80 year old Tzaddik with no prior convictions, no credible evidence against him, and a person who willingly turned himself into the authorities after his three year spiritual exile ended, to come back to Israel to defend himself in court and clear his name.
What happened to him: The judges refused to free him, or even to let him go to house arrest on 7 different occasions, despite his age, ill-health, and the complete lack of credible evidence against him. They also used 'administrative detention' laws against him to keep him in prison illegally, to give the police 'more time' to build a case against him (because three and a half years obviously wasn't enough….)
Musbah Abu Sbeih: A 39 year Palestinian who praised Hamas and other terrorists who carried out attacks against Israeli civilians on his Facebook page, and who actively called for attacks against Israelis and who had been convicted for inciting and supporting terrorism.
What happened to him: These same two judges pushed Abu Sbeih's sentence off for 20 months because he said he had to help his dad in his shop, plus also lifted the ban on him coming into Jerusalem. HE WASN'T EVEN SENT TO HOUSE ARREST, HE WAS ALLOWED TO ROAM AROUND COMPLETELY FREE.
Hopefully, it's starting to become a little clearer to even the biggest sceptic that the 'justice' system in Israel is morally corrupt from top to bottom.
Rav Berland is being kept in prison illegally for the 'crime' of being a religious Jew. There's no 'humanitarian' considerations being made by the judges in his case, no house arrest, no being allowed to roam freely around Jerusalem.
Convicted Palestinian terrorists, by contrast, are being giving sentences that are a joke, and even then not being sent to prison, and even then not being sent to house arrest, and can wander around the country doing whatever they want, despite their obvious links to terrorists and terrorist organisation.
What sort of person views an elderly Tzaddik as being more of a 'threat' to Israeli society than a convicted Palestinian terrorist? These are the people who are running the country. These are the people who are persecuting Rav Berland and threatening other religious leaders in Israel. These are the people who are waging a war against God and his Torah.
There's a Talmudic dictum that those who are kind to the cruel, end up being cruel to the kind. Can you think of a clearer example of this, than what is happening with the Tzaddik Rav Eliezer Berland, shlita?
Stand up for Rav Berland! Sign the petition HERE.