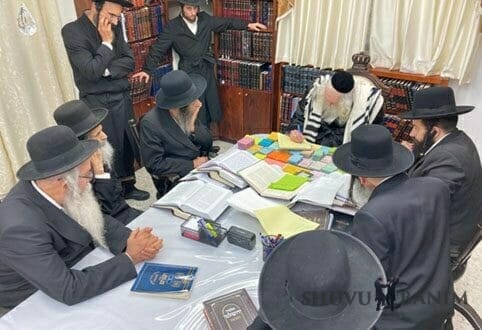 Members of the Rabbinic Council of the holy community of Shuvu Banim gathered for consultation with our Rebbe, the Gaon and Tzaddik, Rabbi Eliezer Berland shlit"a.
At the meeting the Rabbanim consulted with Rav Berland shlit"a regarding numerous issues concerning the community requiring the Rav's involvement and care, such as the community's educational institutions, including the boys' and girls' schools and the yeshivas.  In all of these subjects, the Rav shlit"a guides the way.
Besides the important subject of education, the Rav shlit"a advises in all areas spiritual and material connected to leading the holy community, our beit midrash, and whatever is required.
At the most recent meeting, the following Rabbanim were present:
Rav Moshe Tzenani shlit"a
Rav Shmuel Stern shlit"a
Rav Meir Malka shlit"a
Rav Ofer Erez shlit"a
Rav Shlomo Elmeliach shlit"a
Photo gallery of meeting of the Rabbinic Council with Rav Berland shlit"a