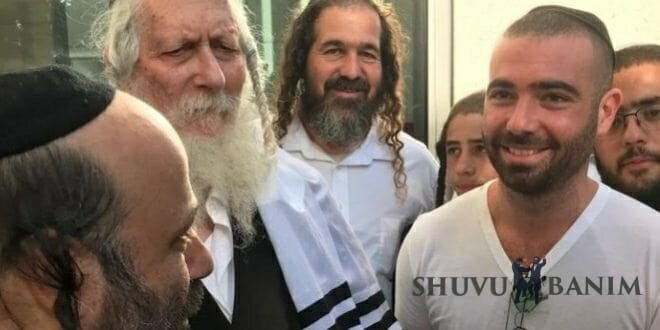 Singer Omer Adam gets a blessing from Rabbi Berland
Omer Adam is one of Israel's most popular and successful singers who in recent weeks and months, has begun to return to his Jewish roots.
On Monday afternoon (September 2, 2019), he met with Rabbi Eliezer Berland, shlita, as the Rav was leaving one of the regular shiurim he gives in a private home, in Tel Aviv. Adam came to ask Rabbi Berland for a bracha (blessing), who responded by giving him a very warm blessing, and also told him:
"Organize a gigantic concert in a stadium, and I will come to there. We will strengthen the public, and we will return all of Am Yisrael in teshuva."
The singer parted from the Rav on very warm terms, as the Rav left to enter his car, to drive on to another shiur in a private home.
Omer Adam recently caused an enormous Kiddush Hashem (sanctification of Hashem's name) when he announced that he wasn't prepared to appear at a concert that took place on Shabbat, even though he was meant to receive 1.5 million shekels for making an appearance.
A few months earlier, at the biggest show that the singer had ever put on, he decided to take the opportunity to put across a message to his audience about the importance of avoiding lashon hara (evil speech).
And in these days leading up to Rosh Hashana, Omer Adam has been leading lengthy selichot services at his home, according to the Sephardic tradition which sees selichot begin at the beginning of Elul.
The meeting was widely covered in Israel's media.