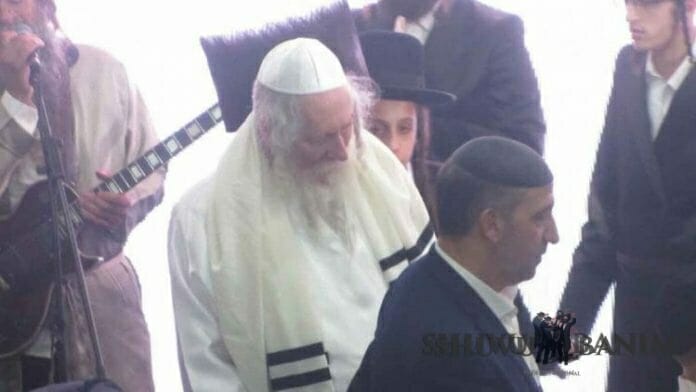 Thousands of people accompany the Rav's Simchat Torah parades around Jerusalem
Last year, 5778, Simchat Torah marked the first chag where Rav Eliezer Berland, shlita, had been completely free to come and go as he pleased for many long years. So the community was stunned and gratified when during the Simchat Torah morning service, the elderly Rav, who is suffering from a debilitating illness that is affecting his legs, led the Shuvu Banim kehillah out of Meah Shearim and down Jaffa Street all the way down to the Machane Yehuda market, before returning back up to Jerusalem town hall.
It was a remarkable hakafa.
No-one knew if the Rav was intending to repeat his hakafa around Jerusalem again for Simchat Torah 5779, especially as the weakness in his legs has become even more pronounced in recent months.
Around the walls of the Old City of Jerusalem
But on the evening of Simchat Torah 5779, Rav Berland, shlita, led hundreds of his students and followers down to the Kotel in the Old City – and then led them around the whole perimeter of the Old City walls.
The map below shows the full circuit that the Rav and his followers took, on Simchat Torah night, as part of a journey of many kilometres:
A non-Jewish visitor at the Western Wall took the following video of thousands of the Rav's followers, passing up the concourse leading into the Yaffo Gate of the Old City, and then flooding into the Kotel plaza, on the night of Simchat Torah 5779:
Through the streets of downtown Jerusalem, Geula and Meah Shearim
The following day, after the morning prayers in the massive Succah that had been erected on HaHomah HaShlishit street in Jerusalem, Rav Berland, shlita, again led many thousands of his chassidim through the streets of Jerusalem.
This time, the Rav again followed the pedestrianized tram tracks all the way down Jaffa Street, in the heart of Jerusalem's downtown, before turning up into Geula, and walking back to Musrara via the streets of Meah Shearim.
Passersby were thrilled to see so many thousands of jubilant, yireh shemayim Jews of all ages walking through the streets and singing joyfully. The map below shows the path of the roughly 5km long hakafa the Rav undertook on the day of Simchat Torah, 5779:
Hakafot HaShneeyot
After night fall, the Rav and his followers continued the festivities, joyously dancing with Torah scrolls for many hours throughout the night, as part of the Hakafot HaShneeyot festivities.
The 80-year old Rav Berland, shlita, danced with the Torah on stage, for many long hours, as you can see for yourself in the video clip (above) and photo gallery: