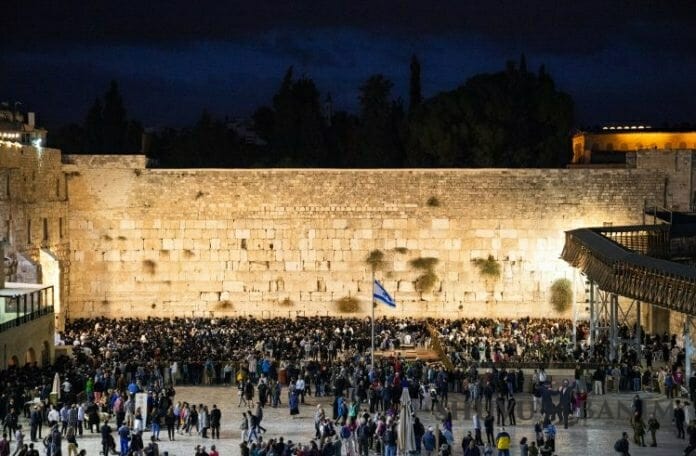 Over the last little while, Rabbi Eliezer Berland has been making a number of cryptic references to a woman called 'Heftziba'.
Apparently, she has a crucial role to play in the unfolding of geula and the coming of Moshiach.
For example, in this post:
https://ravberland.com/all-the-jews-in-the-diaspora-will-come-to-israel-on-ships-rav-berland/
The Rav had this to say:
From Rachel will come the Moshiach ben Yosef. Yosef will come, and will blow on the shofar tekiah, teruah, tekiah. And then, Heftziba will come, because Heftziba is more important than everything.
It's written that Heftziba will go up to Har Nevo (Mt Nebo), and there on the peak of the mountain is the kever (burial place) of Moshe Rabbenu. There, there is a huge rock. There, Heftziba will blow the shofar, and this huge rock will split.
Then, she will see Moshe Rabbenu who will learn with her from shkia (halachic twilight) until the morning. At netz (sunrise), he will go with her to the Me'arat HaMachpela (the Cave of Patriarchs).
There, all the Patriarchs will blow the shofar, and at that moment, all of Am Yisrael will leave their homes, their abodes, and will board ships.
Then, all of the goyim (non-Jews) will see that millions of Jews are arriving, everyone will arrive to the Bat Yam beach, and the goyim will see that the Jews are coming from across the whole world.
And like this, Heftziba  will blow tekia, teruah, tekia. Afterwards, Moshe will blow [the shofar], and then afterwards the Patriarchs.
ALL OF THE JEWS IN THE DIASPORA WILL LEAVE THEIR HOMES AND THEIR BUSINESSES, AND WILL BOARD BOATS, AND THEY WILL ARRIVE WITHIN A WEEK FROM EVERY CORNER OF THE WORLD.
====
And then, around a week ago, Heftziba returned in this post:
https://ravberland.com/everyone-needs-to-make-aliyah-to-eretz-yisrael/
When the Rav had this to say:
Everyone needs to make aliyah to Eretz Yisrael, we need to return everyone to here, great and small, as one. Rabbanim, Admorim and Chassidim – everyone needs to ascend to Eretz Yisrael.
In the future, when Heftziba will go up Har Nevo, and go up on the summit, and will blow teruah, tekiah for 10 hours, without stopping, until everyone brings back their belongings. It's required to bring back the things, to close the businesses.
70,000 ships will come, each ship with 1,000 people, and then the whole world will come, 100 million will come. They will all come to stop the Jews. The Jews are coming to conquer Eretz Yisrael! The Jews are coming to Eretz Yisrael to take Jerusalem. It will be the head [city] of all the goyim.
====
Like many of us, I've been puzzling over who, or what, this 'Heftziba' actually is, given the really important part she seems destined to play in the geula process.
From the Rav's words, it seems that until 'Heftziba' shows up, we're kind of stuck here, waiting for the whole Moshiach show to finally get on the road.
I finally got around to looking up 'Heftziba' online, and I got pointed in the direction of the book of Isaiah, Chapter 62:4. I read through the passage in English – no sign of 'Heftziba'. Then, I re-read the passage in Hebrew, and that's when she finally showed up.
====
Here's what I read in Isaiah, 62:1-4:
"For Zion's sake I will not be silent, and for Jerusalem's sake I will not be still, until her righteousness emanates like a bright light, and her salvation blazes like a torch. Nations will perceive your righteousness and all the kings your honor; and you will be called by a new name that Hashem will pronounce.
Then you will be a crown of splendor in the hand of Hashem and a royal diadem in the palm of your God. It will no longer be said of you "The Forsaken One", and of your land it will no longer be said "Desolate Place"; for you will be called Heftzi-ba ("My Desire Is In Her"), and your land will be called "Inhabited", for Hashem's desire is in you, and your land will become inhabited."
Emphasis mine.
====
So, what can we learn from all of this?
If you take these chapters in Isaiah together with the Rav's own comments, it seems pretty clear that 'Heftziba' is all the Jews in the diaspora, who are still holding on for things to 'go back to normal' and for life to continue trundling along its mindless, superficial path.
In other words, when the Jews in the diaspora (aka 'Heftizba') make aliya, that's when we'll get to the next stage of geula.
====
Even now, even after all the Corona madness, all the scary martial law being imposed all over the place, all the discrimination happening at the highest political levels against Jews, and especially religious-looking hareidi Jews – that's still a tough message for most people to swallow.
Heftziba currently has her head stuck in the sand – way, way down deep.
She's still worrying about her job, mortgage payments and whether the authorities are going to let summer camps open in June, ahead of the 'second wave' that all the prophets of Billam are predicting.
I even know people who are actively making plans to leave Israel as we speak, crazy as that seems. As soon as the skies open, they are making a break for chul.
At the same time, from talking to the more 'connected' people I'm in touch with in chul, it seems that many of them are getting strong spiritual urges to get to Israel, ASAP, in any way they can.
So, while most of Heftziba is still comatose and living in denial, parts of her are really starting to wake up, and starting to see the handwriting on the wall.
====
Can I be blunt here, for a moment?
I mean, you're reading this on Rav Berland's official site, so unless you're one of the mentally-ill trolls that we periodically have to deal with here, that presumably means that you hold by the Rav, and know that he's a Tzaddik who has proved his ruach hakodesh on innumerable occasions in the past.
And the Rav is stating unequivocably that:
Everyone needs to make aliyah to Eretz Yisrael, we need to return everyone to here, great and small, as one. Rabbanim, Admorim and Chassidim – everyone needs to ascend to Eretz Yisrael.
That's a very clear statement. There is no equivocation going on here.
What's more, Rav Kanievsky also recently put out a statement saying something very similar. You can hear the full original statement (in Hebrew) HERE, but Rav Kanievsky said this:
קריאה דחופה ליהודים שגרים בחו"ל : תגיעו מהר לארץ
הקורונה היא לא מגפה ולא מחלה, היא הצלה.
היא הצלה ליהודי חוץ לארץ להציל אותם ממלחמת גוג ומגוג.
בארץ ישראל יהיו ניסים גדולים.
חברה קדישא שבדרך כלל קוברת מדי יום בין 80 ל 100 מתים, כעת בתקופת הקורונה חברה קדישא קוברים בין 10 ל 20 מתים.
מגפת הקורונה היא הצלה. היא חוסכת כ 80 מתים ביום.
קריאה נרגשת ליהודי חו"ל:
תשכרו טיסות מאורגנות ותגיעו מיד לארץ.
תוכלו להתאכסן במלונות הריקים.
יש לכם כסף והכסף נועד להצלת נפשות.
הרב קנייבסקי שליט"א אומר:
המצב בחו"ל הוא סכנה, וחמירא סכנתא מאיסורא.
====

Translation:

URGENT CALL TO THE JEWS WHO LIVE IN CHUTZ LA'ARETZ:

COME QUICK TO ERETZ YISRAEL!

THE CORONAVIRUS IS NEITHER A PANDEMIC NOR A DISEASE: IT IS A SALVATION.

IT IS SALVATION FOR THE JEWS OF CHUTZ LA'ARETZ SO THEY CAN ESCAPE THE WAR OF GOG AND MAGOG.

IN ERETZ YISRAEL THERE WILL BE GREAT MIRACLES.

THE HEVRA KADISHA USUALLY BURIES FROM 80 TO 100 DEAD (in Israel), THESE DAYS OF THE CORONAVIRUS THE HEVRA KADISHA BURIED BETWEEN 10 AND 20 DEAD.

THE PANDEMIC OF THE CORONAVIRUS IS A LIFESAVER: IT SAVES ABOUT 80 DEAD PER DAY.

URGENT CALL TO THE JEWS OF CHUTZ LA'ARETZ:

ORGANIZE GROUP FLIGHTS AND COME IMMEDIATELY TO ERETZ YISRAEL.

YOU WILL BE ABLE TO STAY AT THE HOTELS THAT ARE EMPTY.

YOU HAVE MONEY, AND MONEY IS TO BE USED TO SAVE LIVES. 

THE SITUATION IN CHUTZ LA ARETZ IS DANGEROUS, 

AND
חמירא סכנתא מאיסורא
 DANGER IS WORSE THAN DIFFICULTIES
====
And then yesterday, one of my friends sent me this article, from the Jewishpress website:
https://www.jewishpress.com/news/israel/aliyah-israel/brooklyn-chassidic-rebbe-calls-for-massive-aliyah-before-its-too-late/2020/04/29/
That article states:
Rabbi Chaim Yaakov Frankel from Brooklyn, known as the Rimenover Rebbe, in 2015 issued an unequivocal order for Jews to leave their homes in the diaspora and immigrate to Israel, before a civil war breaks out in the United States…
This week, according to B'Hadrei Haredim, while visiting South-American and French Jews who have moved to Florida, Rabbi Frankel was extremely specific about the urgent need to make aliyah now: "Leave while it's possible. Things will get worse and it will be difficult to move from one country to another."
"After World War II, the survivors came and asked why the Gedolim and the Rebbes did not order European Jews to leave while there was still time and emigrate to Israel or the United States before the war broke out," Rabbi Frankel told his small audience following the morning prayer service. "Truth be told, they (the rebbes) said and then some, they begged the Jews to flee the scorched earth, but part of the decree was that the Jews didn't listen."
"Today," the Rimanover Rebbe said, "Listen to me well, dear Jews, whoever can afford to rise and ascend to the Holy Land should it as soon as possible, and this includes large parts of South America and most of Europe. The US will also become a dangerous place mired in war, and it is still too early to tell which US state will survive, but many parts will be destroyed and poisoned, and a civil war will break out within the US, and states will secede from the federal government. The US will no longer be a place of refuge, but there will be a Jewish remnant here. The Land of Israel will be the safest place to survive the war, even though there will be terrible difficulties there as well."
====
Heftziba, Heftziba! Wake up!
You are holding up the whole of the geula process.
And Hashem knows, we all need that to start happening ASAP.
====
You can read more of Rivka's musings on her blog, here: https://rivkalevy.com/
====