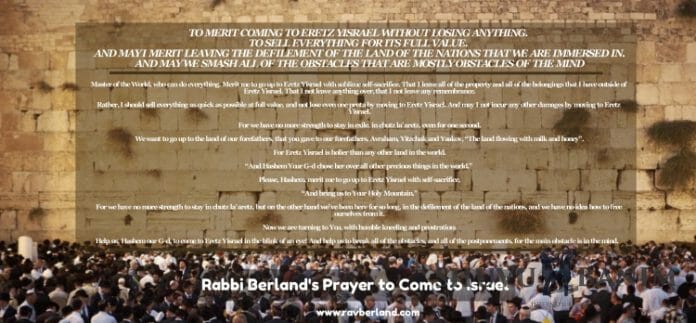 Rabbi Berland's Brand New Prayer to Make Aliya, Easily
We had a tremendously positive response to our recent initiative to start putting as many of the Rabbi Eliezer Berland's translated prayers up as possible. We are currently working on putting together an English prayer A-Z for the site, where visitors can scroll find and find the perfect prayer for their situation.
In the meantime, one of the prayers we were asked for by many readers was a prayer to make aliya, easily. Which is when we ran into a small problem: Rabbi Berland, shlita, had never written such a prayer. In fact, he had never written any prayer about moving to Israel.
After we clarified this, we decided to ask Rabbi Berland if the time was right for this prayer to be written, and we asked if it would be possible for the prayer to be composed in English.
Baruch Hashem, we asked, and Rabbi Berland immediately responded! We are thrilled to share Rabbi Berland's new prayer for making aliya to the Holy Land easily:
====
BS"D
A Prayer to Come to Eretz Yisrael
TO MERIT COMING TO ERETZ YISRAEL WITHOUT LOSING ANYTHING. TO SELL EVERYTHING FOR ITS FULL VALUE. AND MAY I MERIT LEAVING THE DEFILEMENT OF THE LAND OF THE NATIONS THAT WE ARE IMMERSED IN. AND MAY WE SMASH ALL OF THE OBSTACLES THAT ARE MOSTLY OBSTACLES OF THE MIND.
Master of the World, who can do everything. Merit me to go up to Eretz Yisrael with sublime self-sacrifice. That I leave all of the property and all of the belongings that I have outside of Eretz Yisrael. That I not leave anything over, that I not leave any remembrance.
Rather, I should sell everything as quick as possible at full value, and not lose even one pruta by moving to Eretz Yisrael. And may I not incur any other damages by moving to Eretz Yisrael.
For we have no more strength to stay in exile, in chutz la'aretz, even for one second.
We want to go up to the land of our forefathers, that you gave to our forefathers, Avraham, Yitzchak and Yaakov, "The land flowing with milk and honey".
For Eretz Yisrael is holier than any other land in the world.
"And Hashem Your G-d chose her over all other precious things in the world."
Please, Hashem, merit me to go up to Eretz Yisrael with self-sacrifice,
"And bring us to Your Holy Mountain."
For we have no more strength to stay in chutz la'aretz, but on the other hand we've been here for so long, in the defilement of the land of the nations, and we have no idea how to free ourselves from it.
Now we are turning to You, with humble kneeling and prostration:
Help us, Hashem our G-d, to come to Eretz Yisrael in the blink of an eye! And help us to break all of the obstacles, and all of the postponements, for the main obstacle is in the mind.   
====
You can also download this prayer as a PDF of the graphic, below,