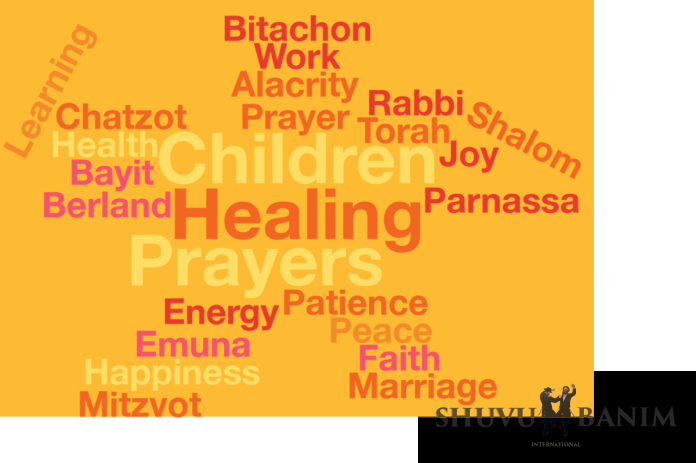 Rabbi Berland's Prayer To Love My Friend As Myself
#1439 
LOVE YOUR FRIEND AS YOURSELF
Master of the world, who can do anything, grant us true friendship and love, and I should never again hurt any friend, and not be disrespectful of any friend.
And I should always love everyone with true love in my heart and soul, and I should only make them happy and encourage them. 
And may I merit to be happy over the success of others, and oVER the success of their sons and daughters. 
And may I merit to be happy over the success of others as if it was literally my own success, as it is written in Tehilim chapter 4, "And you placed happiness in my heart from the time their grain and vines increased".
That all [the good] that my friends are growing and increasing should cause me [to feel] incredible pure happiness, that is burning in my heart from true friendship, love, and true happiness over the success of others.
So too, may we merit to fix the sin of the students of Rabbi Akiva, 24,000 couples of students, and that we shouldn't be disrespectful towards each other, because they didn't display respect for one another. 
And every day that passes, we should be more wholly loving of our friends, and through this we will get close to the 50th gate, to the Holy Temple of Fire, as it says: "And you should love your friend as yourself."   
====
בס"ד                  1439    
לִזְכּוֹת לְאַהֲבַת חֲבֵרִים אֲמִתִּית וְאֶשְׂמַח בְּשִׂמְחַת הַשֵּׁנִי וַאֲפַרְגֵן לוֹ כְּאִלּוּ זֶה שֶׁלִּי מַמָּשׁ וּלְעוֹלָם לֹא נְזַלְזֵל בְּאַף חָבֵר וּלְתַקֵּן אֶת פְּגַם חֵטְא תַּלְמִידֵי רַבִּי עֲקִיבָא וּלְהִשְׁתַּלֵּם בְּאַהֲבַת חֲבֵרִים וּלְהִתְקָרֵב לְשַׁעַר הַחֲמִשִּׁים 
לְמַאֲמָ
ר 
אָמַ
ר 
רַבִּ
י 
עֲקִיבָ
א "
וְאָהַבְתָּ
לְרֵעֲךָ
כָּמוֹךָ
" 
זֶ
ה 
כְּלָ
ל 
גָּדוֹ
ל 
בַּתּוֹרָ
ה
רִבּוֹנוֹ שֶׁל עוֹלָם כֹּל יָכוֹל, זַכֵּנִי לְאַהֲבַת חֲבֵרִים אֲמִיתִּית, וְיוֹתֵר לֹא אֶפְגַּע בְּשׁוּם חָבֵר, וְלֹא אַזַּלְזֵּל בְּשׁוּם חָבֵר, וְתָמִיד אוֹהַב אֶת כּוּלָּם אַהֲבַת אֱמֶת בְּלֵב וְנֶפֶשׁ, וְרַק אֲשַׁבֵּח אוֹתָם וַאֲפַרְגֵן לָהֶם, וְאֶזְכֶּה לִשְׂמוֹחַ בַּהַצְלָחוֹת שֶׁל הַשֵּׁנִי וּבָנָיו וּבְנוֹתָיו, וְאֶזְכֶּה לִשְׂמוֹחַ בְּהַצְלָחוֹת שֶׁל הַשֵּׁנִי כְּאִלּוּ הֵם הַהַצְלָחוֹת שֶׁלִּי מַמָּשׁ, 
כְּמוֹ שֶׁכָּתוּב תְּהִלִּים ד' "נָתַתָּה שִׂמְחָה בְלִבִּי מֵעֵת דְּגָנָם וְתִירוֹשָׁם רָבּוּ", 
שֶׁכָּל מַה שֶׁחֲבֵרַי גְּדֵלִים וְרָבִים זֶה מֵרוֹב הַשִּׂמְחָה הַטְּהוֹרָה שֶׁיּוֹקֶדֶת בְּלִבִּי, מִתּוֹךְ אַהֲבַת חֲבֵרִים אֲמִתִּית, וְשִׂמְחָה אֲמִתִּית עַל זֶה שֶׁהַשֵּׁנִי מַצְלִיחַ, כֵּן נִזְכֶּה גַּם אֲנַחְנוּ לְתַקֵּן אֶת הַחֵטְא שֶׁל תַּלְמִידֵי רַבִּי עֲקִיבָא 24 אֶלֶף זוּגוֹת תַּלְמִידִים, שֶׁלֹּא נְזַלְזֵל אֶחָד בַּשֵּׁנִי, 
כִּי לֹא נָהֲגוּ כָּבוֹד זֶה בָּזֶה, וְכָל יוֹם וָיוֹם שֶׁעוֹבֵר, הִנֶּנּוּ יוֹתֵר וְיוֹתֵר מִשְׁתַּלְמִים בְּאַהֲבַת חֲבֵרִים, וְעַל יְדֵי זֶה מִתְקָרְבִים לְשַׁעַר הַחֲמִשִּׁים, לְבֵית הַמִּקְדָּשׁ שֶׁל אֵשׁ, כְּמוֹ שֶׁנֶּאֱמַר "וְאָהַבְתָּ לְרֵעֲךָ כָּמוֹךָ
====
Visit the A-Z of prayers by Rabbi Eliezer Berland, HERE.
====