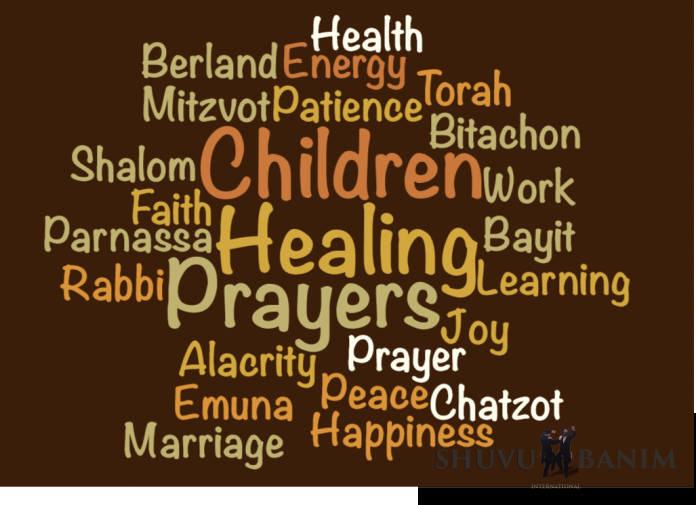 Rabbi Berland's Prayer To Be 'Pure' Straight After Giving Birth
#585 
TO MERIT TO BE PURIFIED IMMEDIATELY AFTER THE BIRTH AND TO ALWAYS BE AT HARMONY WITH EVERYONE 
Master of the world, who can do anything, grant me the merit to be purified immediately after the birth, let me immediately be purified for my husband, who is holy of the holies, the person who is the biggest Tzadik in the world. 
And grant me the merit to be like the women in Egypt, that at the time they closed the Mikvaot, they remained pure for all the 210 years. 
And like the women in the generation of the desert, that from the intense holiness that was in the desert, through the Mishkan, they never became impure, and they didn't need any Mikva in order to be purified, because they were always pure, and they became included in Adam Kadmon of Adam Kadmon, because there was no disagreements among the women.
And through this, they became one with Aharon Hakohen, the Kohen Hagadol, from the intense peace and love that was between every women and her friend.  
Because when a person is holy and pure and one and is at one with all the Jewish Nation, with each other, he can perform miracles and wonders, and to change all nature, and to be like Yosef Hatzadik, who the sun and the moon bowed down to, which is hints to Yehoshua son of Nun, who stopped the sun and the moon as it says, 
"Sun in GibEon be still, and moon in the valley of Ayalon".
====
בס"ד    585     
לִזְכּוֹת לְהִטָּהֵר מִיַּד אַחֲרֵי הַלֵּידָה וְלִזְכּוֹת לִהְיוֹת כְּמוֹ נְשׁוֹת הַמִּדְבָּר שֶׁתָּמִיד הָיוּ בְּשָׁלוֹם וְרֵעוּת עִם כּוּלָּם וְנִכְלְלוּ בְּאַהֲרֹן הַכֹּהֵן שֶׁהָיָה עוֹשֶׂה נִסִּים מֵעַל הַטֶּבַע 
"
לְהִטָּהֵ
ר
מִיַּ
ד 
אַחֲרֵ
י 
הַלֵּידָ
ה"
רִבּוֹנוֹ שֶׁל עוֹלָם כֹּל יָכוֹל, זַכֵּנִי לְהִטָּהֵר מִיַּד אַחֲרֵי הַלֵּידָה, וְאֶזְכֶּה לִהְיוֹת מִיַּד טְהוֹרָה לְבַעְלִי, שֶׁהוּא קֹדֶשׁ הַקֳּדָשִׁים, הָאָדָם הֲכִי צַדִּיק שֶׁבַּדּוֹר, וְאֶזְכֶּה לִהְיוֹת כְּמוֹ הַנָּשִׁים שֶׁבְּמִצְרַיִם, שֶׁמִּשָּׁעָה שֶׁסָּגְרוּ אֶת כָּל הַמִּקְוָאוֹת, הֵם הָיוּ טְהוֹרוֹת כָּל הַ210 שָׁנָה
, וּכְמוֹ נְשׁוֹת דּוֹר הַמִּדְבָּר, שֶׁמֵּרוֹב הַקְּדוּשָׁה שֶׁהָיְתָה בַּמִּדְבָּר עַל יְדֵי הַמִּשְׁכָּן לֹא נִטְמְאוּ מֵעוֹלָם, וְלֹא הָיוּ צְרִיכוֹת שׁוּם מִקְוֶה כְּדֵי לְהִטָּהֵר, כִּי הָיוּ טְהוֹרוֹת תָּמִיד, וְנִכְלְלוּ בְּאָדָם קַדְמוֹן דְּאָדָם קַדְמוֹן, כִּי לֹא הָיוּ שׁוּם מַחֲלוֹקוֹת בֵּין הַנָּשִׁים, וְעַל יְדֵי זֶה נִכְלְלוּ בְּאַהֲרֹן הַכֹּהֵן, וְהַכֹּהֵן הַגָּדוֹל מֵרוֹב שָׁלוֹם וְאַהֲבָה שֶׁהָיָה בֵּין כָּל אִשָּׁה וּרְעוּתָהּ, 
כִּי כְּשֶׁאָדָם קָדוֹשׁ וְטָהוֹר וְנִכְלַל עִם כָּל יִשְׂרָאֵל זֶה בָּזֶה, הוּא יָכוֹל לַעֲשׂוֹת נִסִּים וְנִפְלָאוֹת, וְלַהֲפוֹךְ אֶת כָּל הַטֶּבַע, וְלִהְיוֹת כְּמוֹ יוֹסֵף הַצַּדִּיק, שֶׁהַשֶּׁמֶשׁ וְהַיָּרֵחַ מִשְׁתַּחֲוִים לוֹ, שֶׁרָמַז עַל יְהוֹשֻׁעַ בִּן נוּן שֶׁעָצַר אֶת הַשֶּׁמֶשׁ וְהַיָּרֵחַ, כְּמוֹ שֶׁנֶּאֱמַר "שֶׁמֶשׁ בְּגִבְעוֹן דּוֹם וְיָרֵחַ בְּעֵמֶק אַיָּלוֹן". 
====
Visit the A-Z of prayers by Rabbi Eliezer Berland, HERE.
====