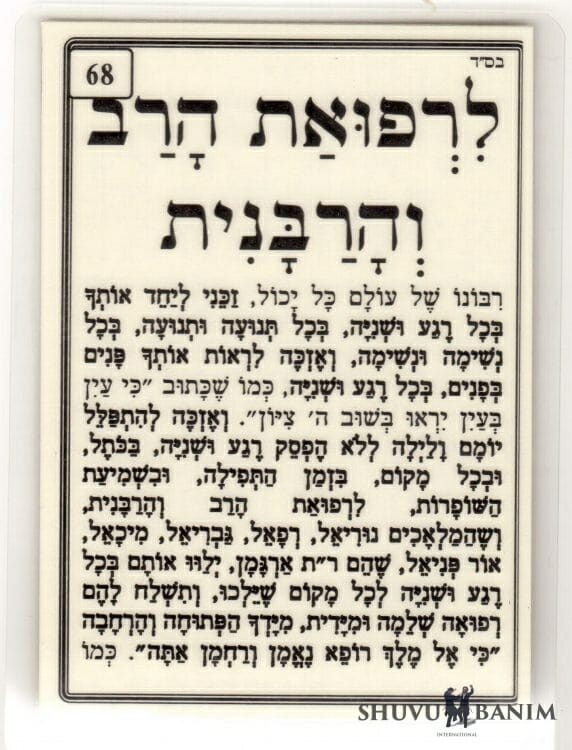 Rabbi Berland's Prayer For Healing The Rav And The Rabbanit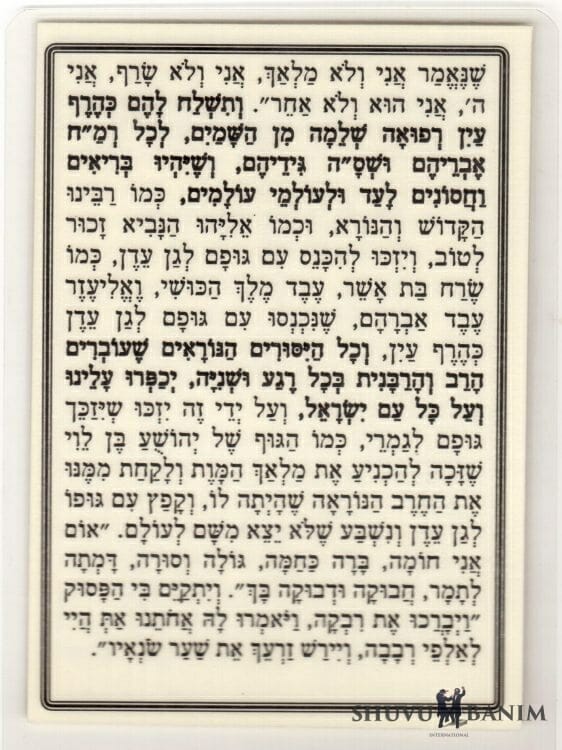 Master of the world, who can do anything, may I merit to unify You every moment and second, with every single movement, with every single breath.
And may I merit to see you face to face, at every moment and second, like its written, "because eye to eye they will see the return of Hashem to Zion".
And may I merit to pray day and night without interruption each moment and second, at the Kotel, and in all places, at the time of prayer, and hearing the shofars, for the healing of the Rav and the Rabbanit.
And the angels, Nuriel, Refael, Gavriel and Micha'el, the light of Peniel, which have the initial letters 'Argaman', will accompany them at every moment and second to all the places they go, and send to them a complete and immediate healing, from Your open and wide hand, "because You G-d are a Faithful Healer and King".
Like it says, "I and not an angel, I and not a seraph angel, I Hashem, Me and no other".
And send to them in the blink of any eye, a complete healing from the heavens, to all 248 limbs and 365 sinews, and they should be healthy and protected for always and forever, like our holy and awesome Rabbi (Rabbenu HaKadosh), and like Eliyahu the prophet who is remembered for the good.
And may they merit to enter into Gan Eden with their bodies, like Serach the daughter of Asher, the servant of the king of Kush, and Eliezer the servant of Avraham, that entered with their bodies into Gan Eden in the blink of an eye.
And all the terrible suffering that the Rav and the Rabbanit go through at every moment and second, will atone for us and for all the nation of Israel. And through this, may they merit to purify their bodies completely, like the body of Yehoshua the son of Levi, who merited to subdue the Angel of Death and to take from him his terrible sword that he had, and who jumped with his body into Gan Eden and swore never to leave there ever.
"Om ani chomah, barah kchamah, golah vsurah, damta letamar, chavukah vdevukah bach".
And may I merit to fulfil the verse,
"And they blessed Rebecca, and said to her, our sister, may you become thousands of myriads and may your offspring inherit the gate of its enemies."
====
Visit the A-Z of prayers by Rabbi Eliezer Berland, HERE.
====