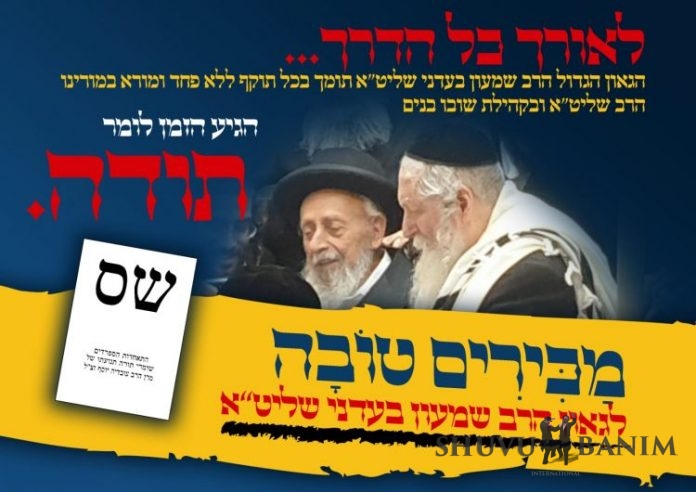 IT WAS DECIDED BY THE ALL RABBI'S OF SHUVU BANIM THAT THIS TIME AROUND THE COMMUNITY WILL VOTE SHAS
A few days ago a strongly worded letter signed by over 50 Rabbi's of Shuvu Banim, was released to the public urging people not to vote for the parties that ignore the terrible persecution of Rabbi Eliezer Berland. Tonight (Sunday) the night before elections, those same Rabbi's came out with a recording saying this time we will vote Shas, founded by the Gaon and Tzaddik Rabbi Ovadia Yosef ztz"l and led by the Gaon and Tzaddik Rabbi Shimon Baadani shlit"a. This is a drastic decision given that in all previous elections Shuvu Banim always voted Agudat Yisrael – Gimel.
This decision was made after Rav Shimon Badani saw that Shuvu Banim will not vote in the elections this year, he personally called and requested they vote Shas. The Rabbi's of Shuvu Banim took his request seriously and to show gratitude to Rav Shimon Baadani for the many times that he stood at the side of Shuvu Banim and he still does to this day.
And most importantly to help the Torah world win over those that want to destroy them.
It should be noted that Rabbi Shalom Arush, for years, has been a strong supporter of Shas.
So, tomorrow at the ballots don't forget to cast your vote for Shas שס.
Listen to the recording below:
Letters sent from Rav Badani to Rav Berland and Shuvu Banim yeshiva asking as a personal favor for them to vote shas: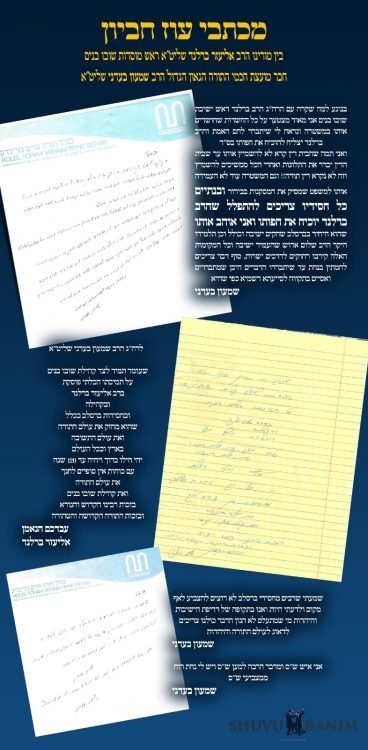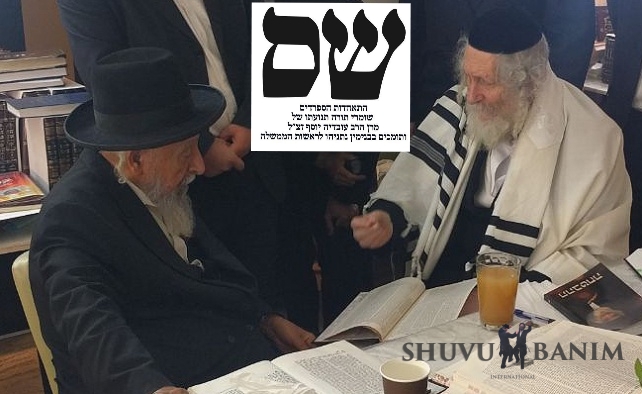 The full meeting between Rav Berland and Rav Ovadia Yosef
Rav Berland to Rav Yosef:
"You are the pillar of cloud and pillar of fire that leads Am Yisrael"
Rav Yosef to Rav Berland: "No, you are the pillar of fire!"
Rav Berland: "I blessed MK Eli Yishai that he should be Prime Minister"
Rav Yosef: "You should be Prime Minister. If you will be Prime Minister the entire nation will do teshuva."
Rav Berland: "I just want to learn Torah".
Rav Yosef then goes on to inscribe a personal blessing to Rav Berland in his new sefer