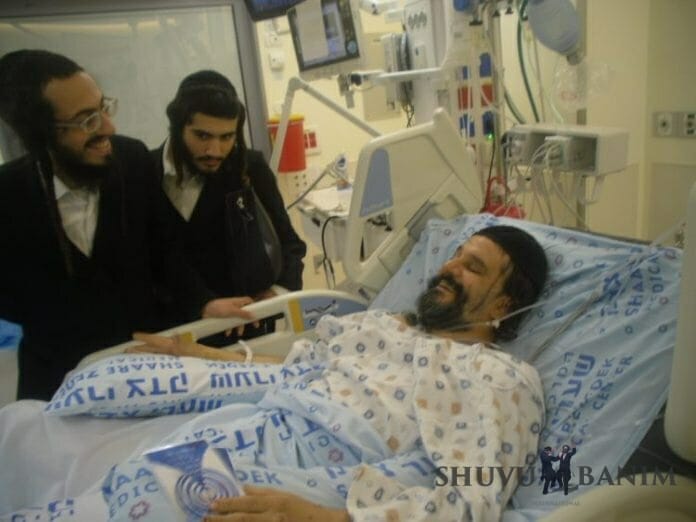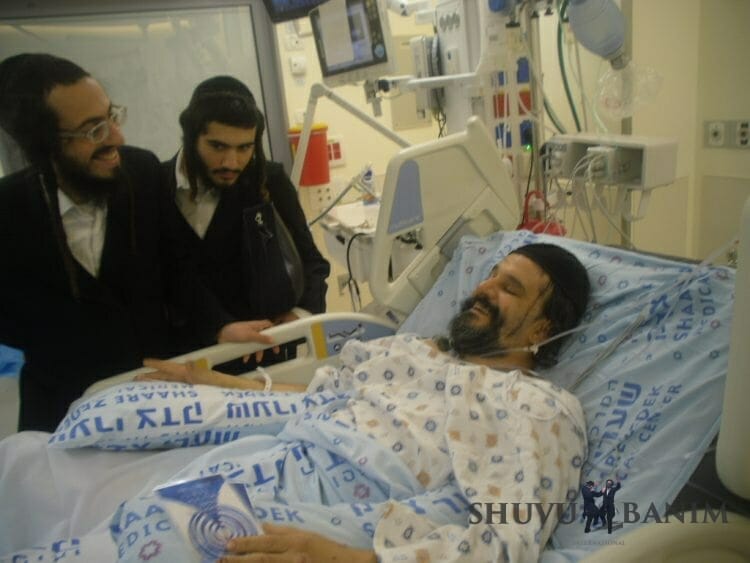 Gavriel ben Ines is on the road to recovery
Barely five days ago, on the morning of May 31st, 2019, Shuvu Banim student Gavriel Lavie was stabbed 17 times by an Arab terrorist by the Damascus Gate in the Old City of Jerusalem.
Gavriel lost 70% of his blood in the horrific attack, and he was admitted to hospital in critical condition. No-one knew if he'd even make it through the next few hours.
Baruch Hashem, the community mobilized our greatest weapon  – our prayers – and within just four short days, Gavriel ben Ines had been moved out of intensive care, as his injuries were no longer classified as life-threatening.
It's hard to grasp the scope of the tremendous miracle that we're seeing with our own eyes, but the following information from the American College of Surgeons (ACS) may help to put it into clearer perspective.
According to the ACS, there are four categories of blood loss, or hemorrhaging.
Class 1: When the person loses up to 15% of the body's blood. Usually there are no symptoms from the blood loss, apart from a feeling slightly faint.
Class 2: When the person loses 15-30% of the body's blood. Symptoms start to occur, including a faster heartbeat, feelings of weakness, paleness and cool skin.
Class 3: When the person loses 30-40% of the body's blood. This equates to up to four pints of blood, and usually a blood transfusion will be required to keep the patient going, because the heart is beating overtime to keep the remaining blood circulating around the body.
Class 4: When a person loses more than 40% of the body's blood: This is considered to be a massive hemorrhage, and without major and immediate medical assistance, the person usually dies from hypovolemic shock and organ failure, as the heart simply can't keep the remaining blood circulating.
Gaviel ben Ines lost 70% of his blood – and yet a scant five days later he was taken out of intensive care, and even able to speak to some of his visitors.
Who is like Hashem Yitborach?
And who is like His tzaddikim?
Thank you to whoever prayed for his recovery!
But please continue to have him in mind, because there is still a long road ahead, despite this tremendous progress.
Gavriel has four children at home.
One of them, Nagel, recently set up a funding page to help the family cope with the tremendous test they are currently experiencing. Here's how Nagel described the experience, in her own words (translated from the original Hebrew):
Hi, my name is Nagel Lavi.
Last Sunday morning, something really awful happened to my family. My father, Gavriel ben Ines, was almost stabbed to death by a terrorist who fell upon him when he was returning from praying at the Western Wall.
He has more than 17 stab wounds, all over his body. He was stabbed in the legs, in his neck and in his face.
My father's condition is very serious. He is in a state of shock, and has been hospitalized in Sha'arei Tzedek, in Jerusalem. We are here with him in the hospital. Please ask all of the Jewish people to pray for him, for Gavriel ben Ines, that he should totally recover.
Now, our family, with four children, is also in a very difficult situation… Our father isn't at home, and our mother is constantly as his side. We are so worried about him, about our father. Bezrat Hashem, he will become healthy again. But in the meantime, our whole house is in a total state of balagan (upheaval).
We are very scared for our father – what is going to be, with him? And we're also worried about our mother, because she is so very stressed and sad at the moment. And we're also worried about our family – what's going to be with us? How can it be, that our strong father is lying unmoving in a hospital bed?
We have so many questions without answers at the moment, and only HaKadosh Baruch Hu knows the true answers.
But there is one question that perhaps you can help us to answer, and that is how my family is going to be able to support itself financially, during this very difficult time.
That question, every Jew reading this can help us to answer!
Please help us during this very difficult period, that is so very hard for us, both financially but also emotionally. And it's so very scary. We need your help.
And HaKadosh Baruch Hu will repay you, and will bless you with good health and security, for you, and also for the members of your family.
Thank you very much,
Nagel Lavi
==
You can donate to the Lavi family HERE, and may we only hear good news.