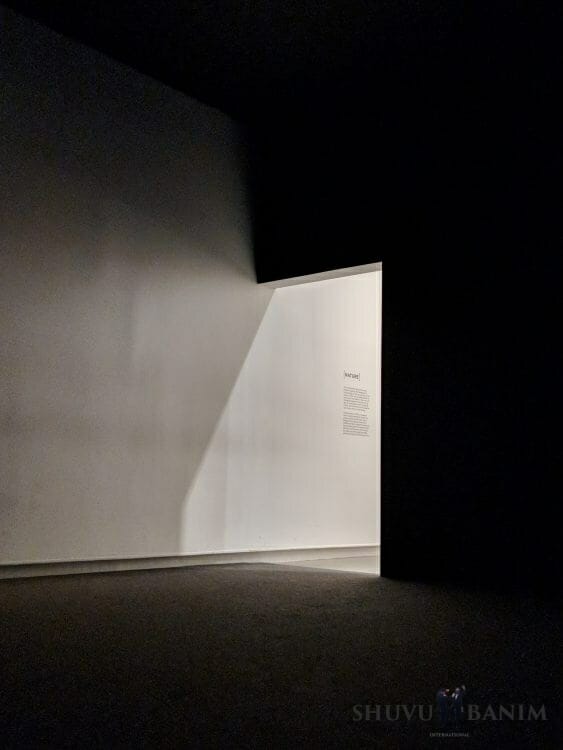 Over the last two years, I've been developing something of a 'feeling' for which people are going to snap and go to the dark side, when it comes to Rav Berland, and which won't.
Perhaps surprisingly, it doesn't depend on outward observance of mitzvahs, country of residence or who they choose to vote for.
More and more, I've come to realise that it all boils down to just one thing, namely:
How honest people really are with themselves.
Because the Rav will take you to the very end of your bad middot. Whatever your real problem is, the closer you get to the Rav, the more you'll find it shoved in your face, and the more you will be challenged to finally acknowledge it, and start to deal with it.
And unless you're prepared to eat a lot of humble pie, and to accept that you're not as 'perfect' and 'rectified' and 'holy' as you actually thought, you're going to find that an impossible challenge.
This is how so many of the people who used to be close to the Rav have pinged away, like a bowshot.
For as long as they thought they could use the Rav as a sort of caspomat, or short-cut to defuse all their problems and issues, they were happy to come along for the ride.
But, once the focus started to switch to what they themselves were doing to cause their own problems, once they started to be challenged to actually work on their own shortcomings – they were off like a shot.
And of course, people like this aren't about to start admitting that the problem is really with them, and their inability to acknowledge their internal 'bad', and to have some humility and make some real teshuva.
So instead, they project the whole problem outward, and the main person they project it onto is the Rav.
Which is why the Baal Shem Tov taught that: The Tzaddik is a mirror.
So, my heart fell about 300 miles when I read what the Rav said, a little while back that unless Am Yisrael does some serious teshuva, he's going to have to take more shame and disgrace and harsh judgement upon himself, to try to sweeten things.
Because you know what that means, right?
That means more machloket, more crazy people making up more crazy stories about the Rav, and more self-righteous psychos indulging in lashon hara festivals online, and in person.
And anyone who's remotely connected to the Rav will get to 'share in the suffering', at least to a very small degree, by having to deal with those psychos and their deranged rantings and threats. And as someone who's had some minor experience of it, I have to tell you it's really not fun.
I have books I've written – with my real name on – that put me firmly in the Rav's camp. I write for his website. I'm not shy about telling people how following the Rav's advice and doing pidyonot with him have all led to massive improvements in so many areas of my life.
So, if the Rav's reputation takes another public dive, I'm inline to get smacked with a whole bunch more self-righteous drivel, personal attacks and 'BDS-Berlanding', where people literally boycotted me and my books and my blog because I was publically supporting him.
Yay! How I'm so looking forward to it.
Not.
It takes an awful lot of humility, an awful lot of emunat tzaddikim  to try to stick that out. When people start throwing mud at you day in day out, that's really not easy to deal with.
Lucky for me, I already know I'm not on the level to hack that for too long, these days, and I'm preparing myself mentally. I know I'll probably have to cool off for a while, take a back seat, go and do some painting etc, if the heat starts turning up too much.
And worryingly:
I can see some distinct signs that the next round of bad-mouthing, and 'shame and humiliation' is poised, ready to begin.
Some of the people I've been watching for months, waiting to see if they're going to fall away and 'go to the dark side' are beginning to act the way people do, just before they crack and become bona fide 'anti-Rav Berland' psychos. The storm clouds are gathering, albeit I think they are still a little way off in the distance.
And of course, things can always change. More of us can make the teshuva required, get real, and stop pretending that we're perfect.
That could happen. Bezrat Hashem, it will happen.
But I'm not betting on it.
And if not, and the Rav takes more shame and disgrace upon himself, another scandal, another bout of exile, then I can tell you this:
I'm dreading it.
And I'm probably not alone. But hey, what can we do?
If the Tzaddik says more shame and humiliation is required to sweeten the judgments, who are we to argue?  I just hope my own ego can stand up in the test, or rather, lie down in the test, as required.
And if things are going to be as bad as the Rav hinted, that's going to be a challenge.