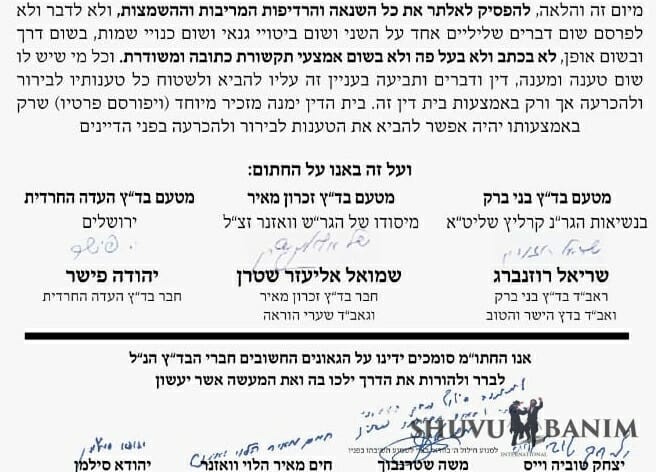 Three of the biggest Batei Din (Jewish Courts) in Israel just issued a ruling against the persecution and slander of Rabbi Eliezer Berland shlit"a.
The psak din is signed by the Beis Din of Badatz Eida Chareidis, Beis din of Rav Nissim Karelitz and Beis Din of Rav Shmuel Wosner.
In the letter issued directly by the Beis Din and which holds halachic authority throughout the entire Jewish world as many of the top Gedolei Yisroel are signed below, states: "To stop immediately all hatred, persecution, arguments and slander, in writing and in speech, and in all form of media and publication."
Below the signatures of the Batei Din are the signatures of other leading Rabbinical authorities such as the Raavad Rabbi Moshe Sternbuch, and the Gaavad Rabbi Yitzchak Tuvia Weiss, and others.
The following is the contents of the letter of Beis Din:
Court appointed by the most important Batei Din in Israel
Monday the 21st of the month of Sivan 5779
After we the undersigned have been appointed by the most important rabbinical courts in Israel to serve as the "Beis Din" to clarify the machlokes against the Rav and chossid Rabbi Eliezer Berland shlit"a, leader of the Shuvu Banim community and to instruct the path to be followed. and after the Rav and chossid Rabbi Eliezer Berland shlit"a and his congregation accepted to come before the court. Therefore, the court requires all parties, from this day onward, to immediately cease all hatred and persecution, and not to speak or publish anything negative on each other and no derogatory terms or names, in any matter or in any way, either in writing or orally or in any written and broadcasted media. And any person who has any claim or complaint, debate and demand on this matter must bring and lay out all his arguments for clarification and decision only through this court. The court shall appoint a special secretary, and only through him the arguments may be brought for clarification and decision before the dayanim.
And for this we signed:
Sariel Rosenberg, Av Beis Din of Bnei Brak and Av Beit Din of Badatz – On behalf of Badatz Bnei Brak under the leadership of Rabbi Nissim Karelitz shlit"a
Rabbi Shmuel Eliezer Stern Member of Badatz Zichron Meir and Rabbi of Shaarei Torah – On behalf of Badatz Zichron Meir, founded by Rabbi Wasner ztz"l
Rabbi Yehuda Fisher member of the Edatz HaCharedit – On behalf of Badatz the Edah HaCharedis Yerushalayim
We, the undersigned, rely on the important Geonim, the members of the Badatz, to clarify and acknowledge the way in which they will go and what deed they will do
Yitzhak Tuvia Weiss, Av Beis Din of the Edah HaCharedis
Moshe Sternbuch Rav of the Eda HaCharedis
Chaim Meir HaLevi Wazner Av Beis Din of Zichron Moshe
Yehuda Silman
Menachem Mendel Lubin
Zvi Rosenblatt
Yosef Binyamin Halevi Wasner
Menachem Mendel Hacohen Shafran
Naftali Nussbaum
All questions and matters pertaining to Beis Din should be sent directly to Beis Din via the following phone number +972-52-710-9158