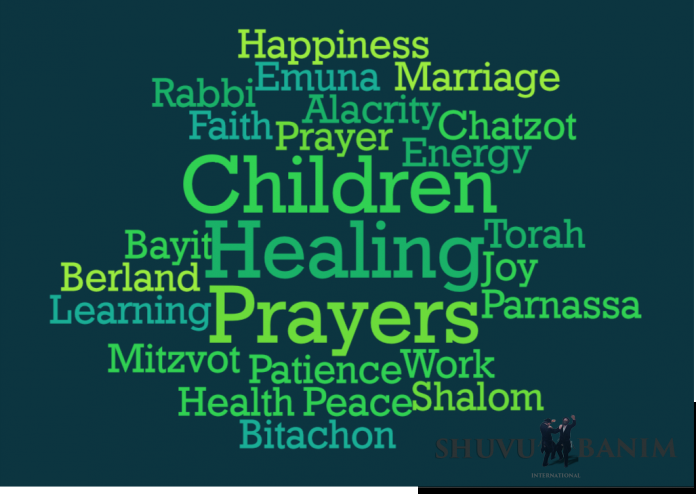 Rabbi Berland's Prayer To Be Saved From Bad And Strange Thoughts
#67
TO BE SAVED FROM BAD AND STRANGE THOUGHTS
Master of the world, who can do anything, save me from all of the bad thoughts!
And in the merit of this, I will always be surrounded by the stones of the breast-plate and their lights, which are: odem, pitida, varecket, nofech, sapphire, and yaholom, leshem, shevo and achlamah, tarshis, shoham, and yashphe (the names of the different valuable stones). 
And I should merit in every moment and second to do the will of our Father in heaven.  
And in the merit of Yael the wife of Chaver Hakeini, who didn't have one impure thought in all of her life, and who in the merit of this became pregnant with all four of the foremothers and the soul of King David of blessed memory.  
As it's written: "from women in the tent you should be blessed", David, Sarah, Rivka, Rachel, Leah.  
And I should never have an evil thought forever again.  
And I will push away all the bad thoughts and I will burn them as a flame laps up straw, a tongue of fire.  And I should merit to be fire and flames for You day and night, a torch of fire.
 Like Devorah the Prophetess, the wife of Lapidot; and like Miriam the Prophetess, who were torches of fire.  And who gave the nation of Israel to drink from her well. And in the merit of this, that the whole Nation of Israel should merit to stand on their feet and to hear the Ten Commandments, and to be surrounded by fire and flames.
Like Devorah, the wife of Barak, that every time she would prophesize she would be surrounded by a wall of fire.
====
#67
לְהִינַצֵל מִמַּחְשָׁבוֹת רָעוֹת וְזָרוֹת
רִבּוֹנוֹ שֶׁל עוֹלָם כֹּל יָכוֹל, תַּצִּיל אוֹתִי מִכָּל הַמַּחְשָׁבוֹת הָרָעוֹת,
 וּבִזְכוּת זֶה אֶהְיֶה מוּקָף (מוּקֶפֵת), תָּמִיד בְּאַבְנֵי הַחֹשֶׁן וּבְּאוֹרוֹתֵיהֵם, שֶׁהֵם אֹדֶם, פִּטְדָה, בָרֶקֶת, נֹפֶךְ, סַפִּיר, וְיַהֲלוֹם, לֶשֶׁם, שְׁבוֹ, וְאַחְלָמָה, תַּרְשִׁישׁ, שֹׁהַם, וְיָשְׁפֶה, וְאֶזְכֶּה בְּכָל רֶגַע וּשְׁנִיָּה לַעֲשׂוֹת רְצוֹן אָבִינוּ שֶׁבַּשָּׁמַיִם, וְאֶזְכֶּה בִּזְכוּת יָעֵל אֵשֶׁת חֶבֶר הַקֵּינִי, שֶׁכָּל חַיֶּיהָ לֹא הָיָה לָהּ שׁוּם הִרְהוּר רָע, וּבִזְכוּת זֶה הִתְעַבְּרוּ בָּהּ כֹּל אַרְבַּעַת הָאִמָּהוֹת, וְנִשְׁמַת דָּוִד הַמֶּלֶךְ עָלָיו הַשָּׁלוֹם, כְּמוֹ שֶׁנֶּאֱמַר "מִנָּשִׁים 440 בָּאֹהֶל 38 תְּבֹרַךְ" 622 = 1100. דָּוִד 14, שָׂרָה 505, רִבְקָה 307, רָחֵל 238, לֵאָה 36 = 1100. וְיוֹתֵר לֹא יִהְיֶה (תִּהְיֶה) לִי שׁוּם מַחֲשָׁבָה רָעָה לְעוֹלָם, וְאֶהֱדֹף אֶת כֹּל הַמַּחְשָׁבוֹת רָעוֹת, וְאֶשְרוֹף אוֹתָם כִּלְחֹךְ הַקַּשׁ לְשׁוֹן אֵשׁ, וְאֶזְכֶּה לִהְיוֹת אֵשׁ לֶהָבָה אֵלֶיךָ יוֹמָם וָלַיְלָה, לַפִּיד אֵשׁ כְּמוֹ דְּבוֹרָה הַנְּבִיאָה אֵשֶׁת לַפִּידוֹת,
 וּכְמוֹ מִרְיָם הַנְּבִיאָה שֶׁהָיוּ לַפִּידֵי אֵשׁ, שֶהִשְקְתָה אֶת כֹּל עַם יִשְׂרָאֵל מִבְּאֵרָהּ, וּבִזְכוּת זֶה כֹּל עַם יִשְׂרָאֵל זָכָה לַעֲמוֹד עַל רַגְלָיו וְלִשְמוֹע אֶת עֲשֶׂרֶת הַדִּבְּרוֹת, וְלִהְיוֹת מוּקָף בְּאֵשׁ לֶהָבוֹת כְּמוֹ דְּבוֹרָה אֵשֶׁת בָּרָק, שֶׁבְּכָל פַּעַם שֶׁהָיְתָה מִתְנַבֵּאת הָיְתָה מוּקֶפֵת בְּחוֹמָה שֶׁל אֵשׁ
====
Visit the A-Z of prayers by Rabbi Eliezer Berland, HERE.
====