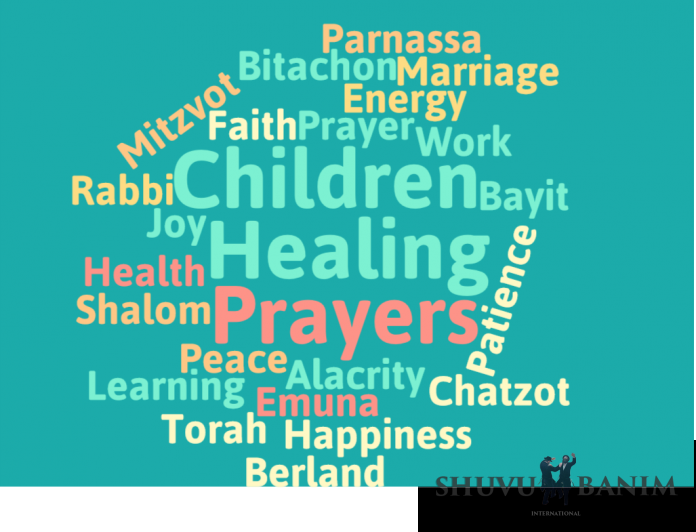 Rabbi Berland's Prayer To Be Strong And To Be A Warrior
#334
TO BE A WARRIOR AND TO BE STRONG. AND TO HAVE A FULL RECOVERY WITHOUT ANY WEAKNESS, PAIN OR DOUBTS
Master of the world, who can do anything.
You should please heal me, [insert your Hebrew name],"Creator of healing, awesome in praises."  
Make me a warrior and let me be strong and healthy like Daniel, the man of loving-kindness, who rode and conquered 1,464 lions.  And I will be a warrior like Samson the Warrior. And I shouldn't have any weakness, pain or growths, Heaven forbid.  
And I should be healed in the blink of an eye, in the merit of the Tzaddik who is the foundation of the world, Rebbe Nachman ben Simcha ben Feiga.  
And I should merit, G-d is One, to serve You all the days of my life, in fear and in happiness, and with great awe, and in strength and with trembling and fright.  And let the verse be established in me: "heal me G-d and I will be healed save me and I will be saved," because You are my praise.  
And then we will give thanks to You in song and in melody, and with thanksgiving and joy.
====
#334
לִהְיוֹת גִּבּוֹר(ה) וְחָזָק(ה) וּרְפוּאָה שְׁלֵמָה לְלֹא שׁוּם מֵחוּשׁ וּכְאֵב וּלְלֹא חֲשָׁשׁוֹת
רִבּוֹנוֹ שֶׁל עוֹלָם כֹּל יָכוֹל, תְּרַפֵּא אוֹתִי ……….. אָנָּא "בּוֹרֵא 209 רְפוּאוֹת 693 נּוֹרָא 257 תְּהִלּוֹת" 841, עֲשֵׂה אוֹתִי גִּבּוֹר(ה) וְחָזָק(ה) וּבָרִיא(ה), כְּמוֹ דָנִיֵּאל אִישׁ 311 חֲמוּדוֹת 464 = 2775 שֶׁרָכַב וְנִצַּח 1464 אֲרָיוֹת, וְאֶהְיֶה גִּבּוֹר(ה) כְּמוֹ שִׁמְשׁוֹן 696 הַגִּבּוֹר, וְלֹא יִהְיֶה לִי שׁוּם מֵחוּשׁ, וְשׁוּם כְּאֵב, וְשׁוּם גִּדּוּל חַס וְשָׁלוֹם,
וְאֶתְרַפֵּא כְּהֶרֶף 305 עַיִן 130 = 435, בִּזְכוּת הַצַּדִּיק 209 יְסוֹד 80 עוֹלָם 146 = 435, רַבֵּינוּ נַחְמָן בֶּן שִׂמְחָה בֶּן פֵיגֶא, וְאֶזְכֶּה ה' אֶחָד, לַעֲבוֹד אוֹתְךָ כָּל יְמֵי חַיָּי, בְּיִרְאָה וּבְשִׂמְחָה, וּבְמוֹרָא 255 גָּדוֹל, וּבְחִיל 56 וּבִרְעָדָה 287 וָפַחַד 98 = 696, וְיִתְקַיֵּם בִּי הַפָּסוּק 'רְפָאֵנִי 341 ה' 26 וְאֵרָפֵא 288 הוֹשִׁיעֵנִי 451 וְאִוָּשֵׁעַ 388 כִּי 30 תְּהִלָּתִי 845 אַתָּה' 406 = 2775, וְאָז נוֹדֶה לְךָ בְּשִׁירָה 517 וּבְזִמְרָה 258 = 775, בְּתוֹדָה 417 וּבִרְנָנִים 358 = 775.
====
Visit the A-Z of prayers by Rabbi Eliezer Berland, HERE.
====