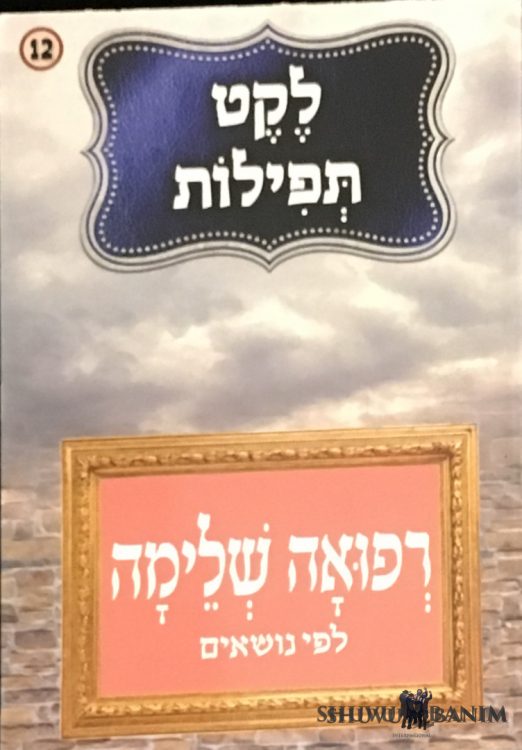 Rabbi Berland's Prayer To Not Need An Operation #3
The following is translated from Rabbi Eliezer Berland's compendium of prayers in the Refuah Shleimah booklet. To get the prayer in the original Hebrew, you can buy the booklet HERE.
====
Please Merciful and Gracious who can do anything and from whom nothing is withheld, please heal ………………. and …………….. so that they will have a complete recovery in the blink of an eye.
In the merit of Faige the mother of Rabbenu, who was called 'Faige the prophetess', and in the merit of Miriam the prophetess who went out with drums and dancing, and who merited to delivered the births of all Am Yisrael, and merited to save all of Am Yisrael, and to cancel Pharoah's decree, and to bring the soul of Moshe the faithful shepherd into the world.
And it's written in the Yalkut Shimoni that the tribes would not travel until Miriam went ahead of them, like it says, "and I will send before you, Moshe, Aharon and Miriam".
And it says, "and she caused the children to live" that even the children who should, G-d forbid, have died or have been born with deformities, G-d forbid, in the merit of the prayers of Miriam they were all born healthy and complete in all their limbs, so that there would not emerge, G-d forbid, any disparagement that she had harmed the children.
And it was her that brought Yocheved back to Amram, and in the merit of this all of the wives returned to their husbands, and all the 600,000 were born, and all of this came about through the holy hands of Miriam.
Therefore, please, Merciful and Gracious, in the merit of Faige the mother of Rabbenu, and Miriam the prophetess, please heal ……………… and …………….. so that they won't need any operation, and their healing will come only from Your wonderous and good and wide hands that are endless.
====
Visit the A-Z of prayers by Rabbi Eliezer Berland, HERE.
====