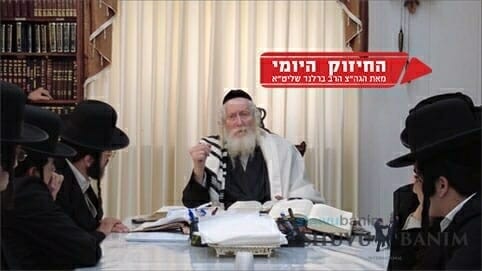 The Daily Chizzuk of our Rebbe, the Gaon and Tzaddik Rav Eliezer Berland shlit"a – "You need to learn Gemara every day."
Friday, 11 Sivan 5782
These are his holy words:
Like Rabbi Chanina ben Dosa, that there was an argument between the shepherd and the employer.
The employer said to the shepherd: "Why did you flee?  Why are you fleeing?  Then so what with the lion?  What happened?  Are you afraid of a lion?  What!?
"I'll pray, I'll do hitbodedut for you that you'll have courage!  That you won't be afraid of lions!"
[Even] better, if you were there, you would have advice – it's forbidden to flee!!!  You would have advice, you would chance upon some type of advice how to subdue the lion!!!  Throw onto him some kind of stone, something.  [If you] fled, then it's over.  There's nothing to do.  He devoured five sheep.
It's written about Yaakov Avinu, that a lion came out to devour five sheep, every morning and every evening.
Yaakov Avinu would circumcise them – the lion, the sheep.  He would circumcise them, because all the sheep reincarnated after this in the grandchildren of Avraham, Yitzchak, and Yaakov – in the seventy souls [which descended to Egypt].  All of them were reincarnated in the seventy souls.
Therefore, Yaakov would learn with them Gemara, and Shas.  He learned with them Kitzot HaChoshen.
One must learn Kitzot HaChoshen every day, also with the sheep.  Anyone who will have sheep should learn with them.