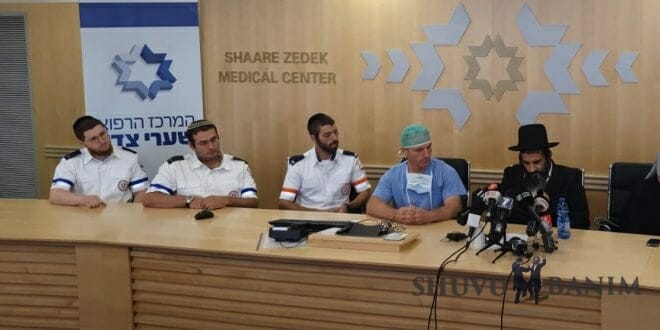 Gavriel Lavie tells the story of his miraculous recovery from being stabbed 40+ times
Around ten days had passed since the horrific stabbing attack by the Damascus Gate which saw Gavriel Lavie, a member of the Shuvu Banim yeshiva in the Old City and a student of Rabbi Eliezer Berland, fighting for his life.
Gavriel was stabbed 40 times all over his upper body, in many of the most critical and vital areas of the torso. He lost 70% of his blood, and the doctors gave him just hours to live. Yet barely 10 days later, Gavriel was well enough to give a press conference along with some of the doctors who attended him at the Shaarei Tzedek Hospital.
Here's what Gavriel had to say about his ordeal, and miraculous recovery, on the Breslov Hotline.
(You can hear the interview for yourself in the original Hebrew by calling: *9148 in Israel;  1845640000 from the US;  443303900474 from England and 380947105602 from the Ukraine):
"Mamash, we are talking about miracles from the Tzaddik, and we really feel all the prayers that were said for us by Am Yisrael,"
Gavriel began. Then he responded to one questioner. "Baruch Hashem, I feel good, although there will be things that we'll have to learn to manage as we go along. But generally, I simply went from death to life.
"A number of the ambulance crew members who came to attend me and to treat me after the attack told me, 'You taught us a real lesson for life, never to give up! You were in critical condition, and it looked like it was terminal."
Instead, just 10 days later Gavriel was talking, moving around and back on his feet.
He continues his story:
"I'd been in the yeshiva the whole week, and I'd also been learning in the Chatzot (midnight) Kollel of Rav Meir Sa'adeh, shlita, one of Rabbi Eliezer Berland's students, shlita. I'd prayed the morning service with the vatikin (dawn) minyan by the Kotel, and I was hurrying back home, via the Damascus Gate, to try and get there in time to see my children, before they left for the Talmud Torah.
"I was close to the Gate's exit when I felt someone pull my hat off, but I still hadn't registered what was really going on. At the time it was all happening, it's very hard to comprehend that you're actually experiencing a terror attack.
"The terrorist attacked me from behind and started stabbing me.
"It took me a couple of seconds to realise what was happening, until I turned around and found myself face-to-face with the terrorist.
"I didn't run away and I did whatever I could [to defend myself]. Whatever happened, it was all from Hashem Yitborach. I decided to accept that this could be the last few seconds of my life. I was stabbed no less than 40 times, in every part of my body. I started to recite the Shema prayer as I fell onto my knees.
"I fought with the accursed terrorist with every drop of my strength for a minute and a half, until I could feel that all my energy was used up, and I fell to the ground and passed out.
"For the next 10 minutes, I just lay unconscious on the floor, and not a single one of the people who were around me there called for help.
During this crucial time, I lost an awful lot of blood, which led to me deteriorating into a critical, almost terminal condition."
Yet on Wednesday, June 12, 2019, Lavie found himself giving a press conference to a bunch of reporters at the Shaarei Tzedek Hospital. He continued:
"I understood that I was hovering between life and death.
But in the merit of the pidyon nefesh that my friends from the yeshiva did for me [with Rabbi Berland], the whole situation turned around for the good.
Gavriel concluded"
"We will of course continue to travel via the Damascus Gate, and to not be afraid, and to follow the words of the Tzaddik Rabbi Eliezer Berland, that we shouldn't be afraid of anything or anyone, apart from the Creator of the world."
You can see Gavriel giving over his own story at the press conference in the clip below:
====
The story of Gavriel's miraculous recovery was recounted across many different websites and media outlets in Israel, and created an enormous Kiddush Hashem.
With Hashem's help, Gavriel ben Ines should continue his swift recovery back to complete good health, and Ashrenu! Fortunate are we that we have a Tzaddik like this in our generation.