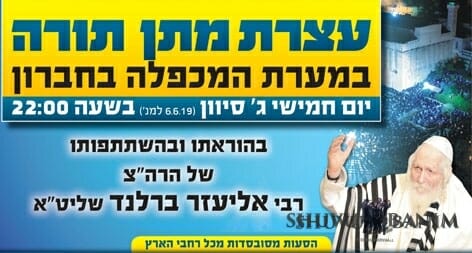 Rav Berland Calls for a New Atzeret on June 6, 2019
At Meron 5779, barely a week ago, flyers were handed out informing the crowds at the Shuvu Banim enclosure that Rabbi Eliezer Berland, shlita, had called for another Atzeret, or prayer gathering, on June 6, 2019.
In the few short days since L'Ag B'Omer a lot has occurred:
> Rabbi Berland was hospitalized and underwent surgery, which Baruch Hashem was successful, and the Rav is expected home any time soon.
> Israel's government fell, and new elections were called, probably for September 17, 2019.
> Shuvu Banim student Gavriel ben Inis (Gavriel Lavie) was seriously wounded in an awful stabbing attack in the Old City of Jerusalem, which also saw a 16 year yeshiva bochur wounded too.
Yet again, we see Rabbi Berland's astounding foresight and yet again, we can understand that if the Rav is calling for another Atzeret in Hevron on June 6, 2019 this coming Thursday, there must be an awful lot at stake.
Subsidized buses will be arriving at Hevron from all over the country, and the Atzeret will begin at 22:00 at night – with Rabbi Berland joining the crowd later on in the evening.
To find out more details, and / or to register for a bus, please call:
077-22-922-22