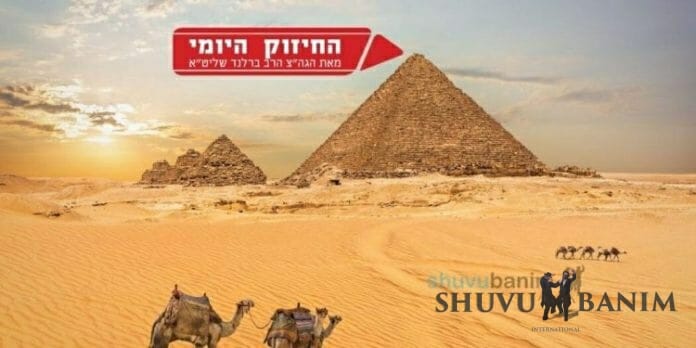 The Daily Chizzuk with our Rebbe Rav Eliezer Berland shlit"a — "The women didn't sin in the desert."
Thursday, 11 Iyar 5782
These are his holy words:
No woman sinned in the desert, no woman — not the sin of the Golden Calf, not the sin of the spies.
There were 10 tests, 10 sins, but the women didn't sin.  The women went with the Tzaddik.  For them, it wasn't an issue.
[Korach said:] Moshe is a deceiver.  Moshe is a sorcerer.  "Why do you exalt yourselves over the congregation of Hashem?" (Bamidbar 16:3) — suddenly, the ground opened up and all of them were swallowed up.
But for the women, this wasn't an issue.  The women knew that Moshe was the Tzaddik, followed Moshe through fire and water.  Moshe split the sea.  He brought the 10 plagues.
Korach said, "I can also bring Torah down from the heavens.  What's the problem?  I'll ascend to the heavens and also bring down Torah."
Moshe ascended to the heavens.  Why did he ascend to the heavens?  Because everyone prayed, everyone crossed the sea.  Behold, Datan and Aviram — the sea split for them.  Datan and Aviram…