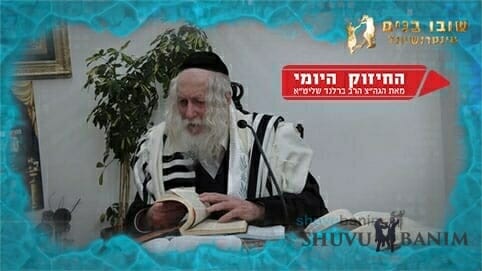 The Daily Chizzuk from our Rebbe Rav Eliezer Berland shlit"a – "All of a person's Torah insights are mockeries without the Tzaddik"
Sunday, 14 Shevat 5783 – "Without in-depth Gemara learning, prayers aren't accepted."
These are his holy words:
"They eat the leglugei (flowers or seeds) of the mustard" (Tosofot Baba Batra 18b) – (the bees) eat the leglugim (mockeries) – without the Tzaddik, everything is mockery, everything is mockeries.  Just a person making fun, just a person mocking.  All of his insights are mockeries without the Tzaddik.
"I will sing to Hashem for He is exalted above the arrogant" (Shemot 15:1) – "ga'oh ga'ah – exalted above the arrogant" is Leah.  Rabbeinu writes in Torah 5 in Likutey Moharan that first we enter Leah and after this to Rachel.
All the work is joining Leah to Rachel – "trembling gripped the powers of Moav" (Shemot 15:15).  274 is the union of Leah and Rachel; Leah is 36 and Rachel is 238.  Together, the numerical value is 274 – ra'ad (trembling).
This is the work, that we join Leah with Rachel, because Rachel gives the signs to Leah (Megilah 13b – When Yaakov was supposed to marry Rachel, and Lavan switched her with Leah, Rachel gave the identifying signs which Yaakov had given her to Leah so that she wouldn't be embarrassed).
Rachel gave over the signs – Rabbi Natan says that without learning Gemara, it's impossible to attain anything.  Rachel is Gemara learning; Leah is prayer.
The Rebbe says that only through Torah learning are prayers and requests accepted.   Without Gemara learning, no prayer is accepted.
A person needs to know that even though we are Breslov, the foundation of the Rebbe is Gemara learning.  Rabbeinu said, "I wanted to draw them to Asiyah (the World of Action in the Kabbalah)."  People don't know that Breslov is only Gemara learning, learning Ketzot HaChoshen, Netivot HaMishpat, Tokfo Kohen – Gemara in-depth.  The Rebbe said [that] a person needs to know all the commentators.
The Rebbe says explicitly [in Likutey Moharan 101] to learn Gemara in depth.  Only this subdues the evil husks.  Plain Gemara learning [and not in-depth] doesn't subdue the evil husks.  This is like saying Tehilim.
A person needs to learn Gemara in-depth.  The Rebbe says in Torah 101 that you need to learn mamash in-depth with Ketzot HaChoshen and Netivot HaMishpat, because only through learning Gemara is the prayer accepted, because through Gemara learning, one builds the portions of the intellect.  A person who doesn't learn Gemara falls apart at 70-80.  The brain falls apart.  Only Gemara sustains the brain.