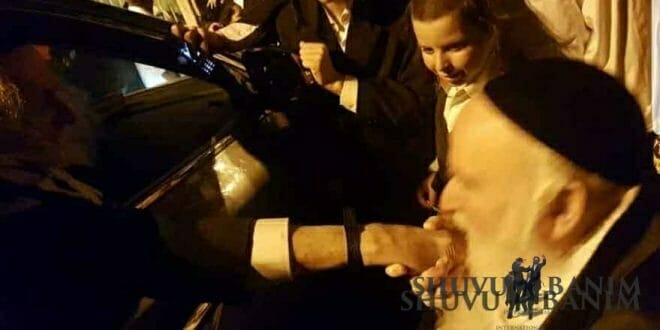 Baruch Dayan HaEmet: Rav Elazar Mordechai Mentzer, z'tl
On the 13th of Iyar, 5780, the tzaddik and kabbalist Rabbi Elazar Mordechai Mentzer, z'tl, passed away in Jerusalem.
Long-time readers of the ravberland.com website will recall that many years ago, Rabbi Mentzer passed along a stern warning to those people speaking badly of Rav Berland that Heaven had now lost patience with their conduct.
You can read that full article, HERE:
====
Rabbi Mentzer was the son of the chassid Rabbi Yitzhak Mentzer, and was also a previous resident of the Jewish community in Antwerp, Belgium, where he followed in his father's footsteps to also become a prominent member of the Belz Chassidut.
But despite his illustrious connections and his tremendous grasp of Torah and kabbalah, in his daily life, Rabbi Mentzer conducted himself very much as a tzaddik nistar, or hidden tzaddik.
He appeared to be a very simple, straightforward man with tremendous yirat shemayim, who was clearly very happy to do the will of his Creator in simplicity and innocence. He was a faithful servant, upholding the three pillars of the world, namely Torah learning, avodah (spiritual work) and kind deeds.
====
His path was known to be one of total kvod shemayim.
He suffered from countless yissurim (tribulations), but he accepted them all with love and with emuna.
He was particularly known for his attribute of ahavat Yisrael, or love for his fellow Jew, and he expended much effort to sow peace, tranquility, friendship and companionship between one person and another. He was happy to greet every Jew, and a great many people turned to him for advice and other resources.
He was happy to listen to those who came with a broken heart – and he'd inject new life into them. He gave his heart and soul to gladden the hearts and revive the souls of the needy souls of the people of Israel.
====
While many people knew of Rav Mentzer, z'tl, and spoke to him, very few people knew that he was one of the lamed vav tzaddikim (36 hidden tzaddikim in whose merit the world continues to exist).
Rav Mentzer served Hashem without any fanfare, and so, his passing also occurred very quietly, without the honor really due to one of the tzaddikim whose emuna and avodat Hashem was really protecting and shielding the generation.
In every matter connected to kedusha (holiness), the holy camp of Israel, and the midda of truth, Rav Mordechai Mentzer, z'tl, didn't restrain himself and didn't just watch from the sides.
====
When the machloket and the persecution of Rav Eliezer Berland and his Shuvu Banim community heated up, Rav Mentzer came out very strongly against all the persecution, and he said:
"Everyone who has come up against (the persecutors of Rav Berland) can see that they are not looking to 'build' anything, but only want to furiously destroy from a place full of yetzers, taking revenge and bloodthirstiness."
====
Afterwards, when the machloket became even stronger, and got to a very difficult stage, Rav Mentzer, z'tl, gave over a terrifying message to the nation.
This is how we described those words, then. "A terrifying message from Rabbi Elazar Mordechai Mentzer, shlita, a holy miracle-worker, who Rabbi Avraham Hai, z'tl (the kabbalist from Pardes Katz), and many other tzaddikim said about him that he was one of the leading lamed vav tzaddikim of the generation."
====
This is what Rabbi Mentzer said then:
"You should know, that all of this persecution [of Rav Berland] is born out of jealousy. I have no doubt that if these persecutors would have been living in the generation of Rabbenu HaKadosh, Rebbe Nachman, that they would have also been persecuting him.
"The Yismach Moshe, ztl, Rav Teitelbaum the admor of Satmar teaches us that the tree hints to the Tzaddik, and that water hints to machloket (contention and strife)….Just like it's impossible for a tree to grow without water, so too it's impossible for a Tzaddik to grow without machloket."
'They don't punish a person unless he's first been warned, therefore I'm now warning you. Tosfot in Masechet Sotah [which quotes Rabbi Yochanon, who brings the words from Rabbi Shimon Bar Yochai] says that: 'It's better for a person to throw himself into a fiery furnace, than to embarrass his friend in public.' And also Rabbenu Yonah [writing in Shaarei Teshuva, the Third Gate, 139, where he explains that we're speaking about the 'dust' of murder, because the person who shames another causes the red blood to drain from the face of the person he embarrassed] – explains that one who embarrasses another in public, it's like one of the three cardinal sins that a person should rather die than transgress.
(The three cardinal sins are murder, sexual profanity and idol worship.)
====
'From now on, anyone who opens his mouth against Rav Berland, shlita, he's considered to be a deliberate transgressor, and he should know that he's playing with fire.
And he fulfills the words of the following verse in Pirkei Avot that states:
Warm yourself beside the fire of the Sages, but beware of their glowing coals, lest you be burnt. For their bite is the bite of a fox, their sting is the sting of a scorpion, their hiss is the hiss of a serpent, and all their words are like coals of fire.
'Also, a person who only thinks bad thoughts against Rav Berland, shlita, should know that these thoughts are considered to be idol worship, and that he needs to use all of his strength to expel these thoughts [from his mind].
'WHOEVER HAS ALREADY SPOKEN AGAINST RAV BERLAND, SHLITA, HAS NO REMEDY, EXCEPT TO GO TO TWO TRUSTWORTHY JEWS, AND TO TELL THEM THAT HE TAKES IT UPON HIMSELF THAT WHEN THE RAV, SHLITA, IS RELEASED, BH, HE WILL GO TO HIM TO APPEASE HIM, UNTIL HE HEARS FROM HIM [RAV BERLAND] THAT HE'S BEEN FORGIVEN.'
====
May he be a powerful sanigoria (defender) for the Nation of Israel, in our time of trouble.
====