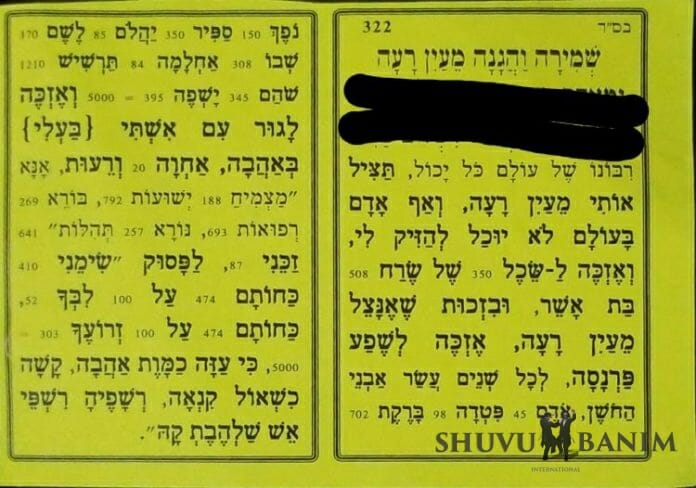 Rabbi Berland's Prayer To Be Protected From The Evil Eye
#322 
PROTECTION AND SHIELDING FROM AN EVIL EYE
Master of the world, who can do anything, save me from an evil eye, and no person in the world should be able to harm me.
And grant me the merit of the mind (350) of Serach (508) the daughter of Asher.
And in the merit of my being saved from an evil eye, I should merit bountiful sustenance, to all the twelve stones of the Chosen, Odem (45), Pitda (98), Barekes (702), Nofech (150), Sapir (350), Yahalom (85), Leshem (370), Shvo (308), Achlama (84), Tarshish (1210), Shohham (345) Yashphe (395) = 5000.
And grant me the merit to dwell with my wife (husband) with love, brotherhood (20), and friendship.
Please, "the One who sprouts (188) salvations (792), Creator (269) of healing (693), Awesome One (257) of praises (641)", grant me the merit (87) of the verse,
"place me (410) like a seal (474) on (100) your heart (52), like a seal (474) on (100) your arm (303) = 5000,
"Because love powerful like death, zealousness difficult like the depths, it sparks, sparks of fire, flames of G-d".
====
Visit the A-Z of prayers by Rabbi Eliezer Berland, HERE.
====