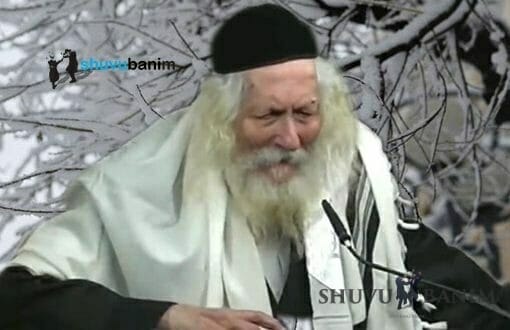 The courtyard of our Rebbe Rav Eliezer Berland shlit"a on Ido HaNavi St. in the midst of the heaviest snow storm in several years — 25 Shevat 5782.
Immediately after the Ma'ariv prayer, the Rav began to sing with the community for several minutes:
"Esther spoke again before the king, fell before his feet, wept and implored him" (Esther 8:3).
"My G-d, my G-d, why have You abandoned me?" (Tehilim 22).
After the singing, the Rav continued, saying:
"Then what did Achashverosh say to her?…  'Forgive me, you're very important and precious to me, but what can I do?'
"'[That which is] sealed with the king's signet ring can't be revoked.'  One who is sealed by the Tzaddik, then that's it – it's an eternal seal and can't be revoked!
"Now we are all travelling to Uman.  There are already planes ready.  Within five minutes everyone will be in the planes."