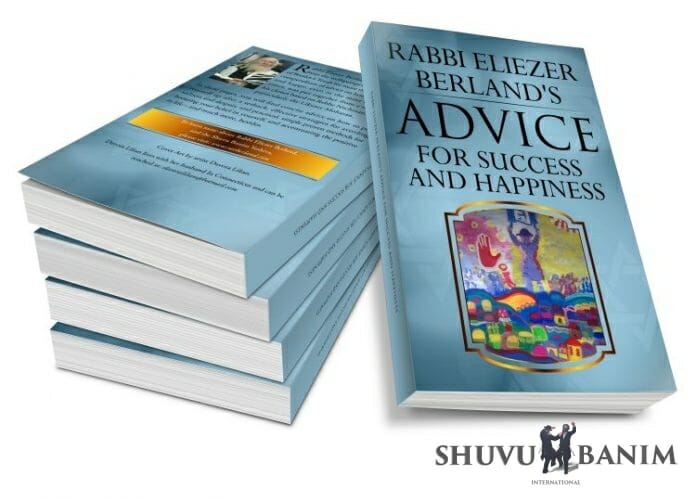 Get the new book, Rabbi Eliezer Berland's Advice For Success and Happiness
With tremendous gratitude to Hashem, we're pleased to announce the publication of another new book in English, containing more priceless wisdom and teachings from Rabbi Eliezer Berland, shlita.
The latest book to join our stable is Rabbi Eliezer Berland's Advice for Success and Happiness, a compendium of advice based on the popular Hebrew book we've been translating here on the site, Az Tatzliach.
If you live in the UK or US, you can order the paperback version directly from Amazon, HERE.
Currently, Amazon is not shipping this book to Israel, so we have also decided to make the manuscript available as a downloadable PDF that can be easily printed at home and enjoyed by our readers in Israel, and other places, too.
You can buy the PDF for just $1.99, by clicking HERE.
====
Shortly before Shavuot of this year, Rabbi Berland called a senior student and explicitly told him:
"There is such great dinim and tumah in the world, but my books and my writings, the Torah and the prayers, are cleaning and purifying all the judgments and the tumah from the world."
So, every book that is printed out – in any format that happens to be – is having a tremendous impact in the world, and is helping to tip the balance from 'bad' to 'good'.
You can get your downloadable, printable copy of Rabbi Eliezer Berland's Advice for Success and Happiness HERE.
Or, if you live in the US or UK, you can order the paperback HERE.
====
Downloadable PDF: Rabbi Eliezer Berland's Prayers for Health