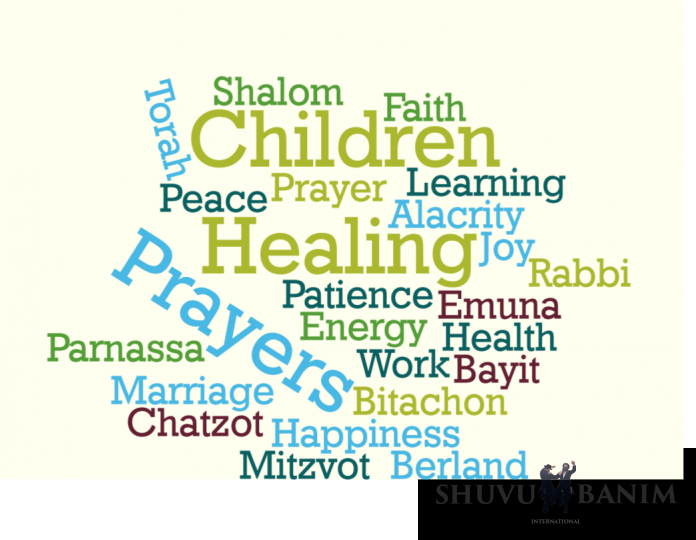 Rabbi Berland's Prayer to See Hashem Face-to-Face
#1355
TO MERIT TO SEE HASHEM FACE-TO-FACE
Master of the world, who can do anything. In Your abundant infinite goodness, please give us the merit to see Hashem face-to-face.  
Because You pushed off the flood for seven days, from the tenth of Cheshvan  until the seventeenth of Cheshvan, because the sun traveled for seven days from the west to the east.
And it (the sun) gave them the taste of the Garden of Eden, and it atoned for them – for all the transgressions of lewd behavior, theft, violence, idol-worship and murder.
And if they would have taken advantage of those days to do good, immediately the holy Temple of fire would have been built and the Messiah, the son of (King) David would have been born.
====
# 1355
לִזְכּוֹת בְּרֹב רַחֲמֶיךָ הָרַבִּים לִרְאוֹת אֶת ה' פָּנִים בְּפָנִים וּלְנַצֵּל אֶת יָמֵינוּ לְטוֹבָה וְהִתְקָרְבוּת לַה'
רִבּוֹנוֹ שֶׁל עוֹלָם כֹּל יָכוֹל, זַכֵּנוּ בְּרֹב טוּבְךָ הַאֵין סוֹפִי, לִרְאוֹת אֶת ה' פָּנִים בְּפָנִים, כִּי דָּחִיתָ אֶת הַמַּבּוּל בְּשִׁבְעָה יָמִים, מִּי' בְּחֶשְׁוָן לְי"ז בְּחֶשְׁוָן, כִּי הַחַמָּה שִׁבְעַת יָמִים זָזָה מִמַּעֲרָב לַמִּזְרָח, וְהִטְּעִימָן טָעַם גַּן עֵדֶן, וְכִפֶּר לָהֶם עַל כָּל הָעֲבֵירוֹת שֶׁל נִאוּף, גֵּזֶל וְחָמָס, עֲבוֹדָה זָרָה וּשְׁפִיכוּת דָּמִים, וְאִם הָיוּ מְנַצְּלִים אֶת הַיָּמִים הָאֵלּוּ לְטוֹבָה, מִיַּד הָיָה נִבְנֶה בֵּית הַמִּקְדָּשׁ שֶׁל אֵשׁ, וְנוֹלַד מָשִׁיחַ בֶּן דָּוִד.
====
Visit the A-Z of prayers by Rabbi Eliezer Berland, HERE.
====