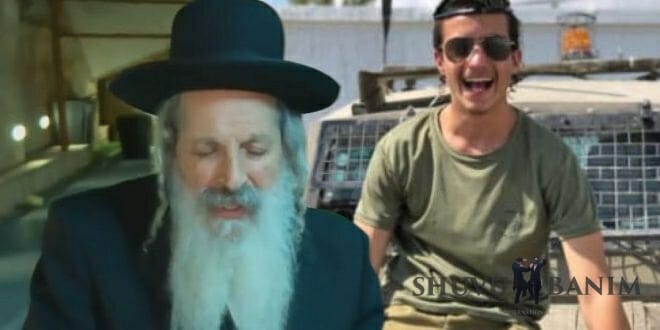 Rav Eliyahu Meirav's eulogy for his son, Yosef Cohen, Hyd
On Thursday, the week of Parshat Vayigash 5779 (December 13th, 2018), the holy soldier Yosef (Yossi) Cohen, aged 19, was killed al Kiddush Hashem. Yossi died in a hail of bullet fired by a Palestinian terrorist at the Givat Assaf hitch-hiking point on Route 60, just outside Bet El. His friend and fellow soldier, Yuval Mor Yosef, was also killed in the attack, which left a third soldier and also a young woman severely injured.
Yossi and his friend were serving in the 'Netzach Yehuda' brigade of the IDF, part of the Nahal Haredi Division that enables chareidi young men to serve in the army. He and his friend were stationed at the Givat Assaf trempiada as part of their army duties, when the terrorist opened fire and killed them. Hashem should avenge their blood.
Every Jewish life lost is a huge blow.
But Yossi's death was felt particularly acutely by the wider Shuvu Banim community, as he was the son of Rav Eliyahu Meirav, a long-standing student of Rav Eliezer Berland. Shortly after the murder, Rav Meirav was interview by the Israeli media.
He gave over a heartrending plea for unity to take the place of division, and for Am Yisrael to come together in times of peace, instead of only in times of war.
Below, is a translation of some of Rav Meirav's words:
"Yossi was a pure neshama (soul). He was on shlichut (a spiritual mission). We sent him [on that mission] with very great love. At every Shabbat meal, we sit together as a family, and everyone says 'thank you' for something that they're grateful for. Last Shabbat, Yossi said the following: 'I'm grateful to HaKadosh Baruch Hu that I have the zchut (merit) to use my body to protect the people of Israel.'
"That's who this neshama was. He didn't really know what he was saying, but these were the last words that he said in our home. Now, all of us understand what he was really saying."
A clearly distraught Rav Meirav continued:
"Yossi was a pure soul. He was a child full of mesirut nefesh (self-sacrifice), a child who only wanted to help other people – right from the time he was small. And now, Hashem has taken him. We need so much strengthening…
"We were very proud of Yossi, and he was proud of us, too. We sent him [to the army] with love, from a very deep sense that he had a mission to do. We believe that Am Yisrael is one unit, indivisible. We believe that everyone is joined together. Everyone, in whatever place they find themselves, needs to help others, and to give to others.
Eternal values
"This is how I was raised," continued Rav Meirav. "I grew up on Kibbutz Beit Alfa, of the Shomer HaTzair, and these were the eternal values [we were taught] about loving another human being, loving humanity. No politics can sway these values, this feeling of eternal unity.
"It's so unfortunate that bereavement is what bring us together. Perhaps, we'll actually start to win when we are joined together by love. Halavai. Why can't we come together on happy occasions?! It hurts me so much. It's hard to speak.
Let's put an end to hatred between Jews
"It's correct, that I served in the IDF, then made teshuva after the Yom Kippur War," Rav Meirav responded, to a question from the journalist. "I've been chareidi for 45 years already. But first and foremost, I am an Israeli. I am a product of the breakdown of secular Israeli society. It pains me tremendously that there are families who don't accept their children after they enlist [in the IDF].
"I understand that everybody has to follow their own beliefs, and to walk in their own path. But we have to maintain our respect for the other person. We have to maintain the mutual respect between us!
"We have to put an end to the awful hatred between us. It's impossible to build a home, to build a state, in this way."
Rav Meirav ended:
"Yossi was a young, Israeli, Chareidi man. He had a heart of gold, and he was the tiferet (splendor) of Am Yisrael, mamash. He wanted to finish the army, and then continue to give to Am Yisrael, by becoming a dentist.
"And now, he's above. He's watching over us."
We at Shuvu Banim International extend our deepest condolences to Rav Meirav and his family, and to the others who have lost loved ones and who have been injured in the recent, awful terror attacks.
You can hear Rav Eliyahu speaking in the original Hebrew, HERE.