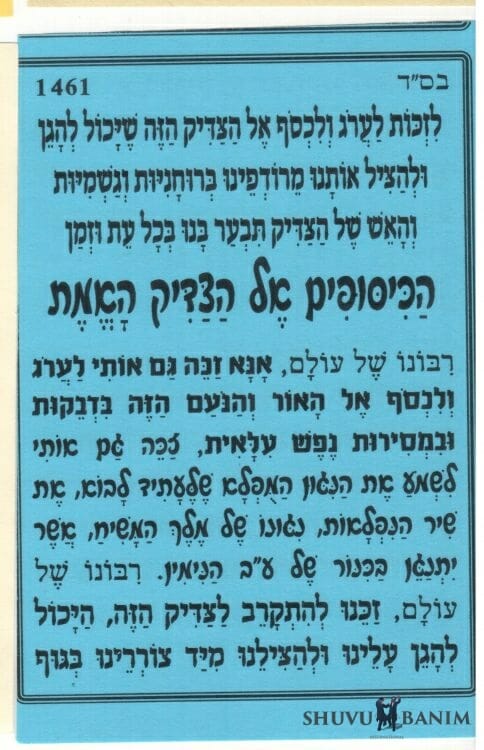 Rabbi Berland's Prayer To Yearn For The True Tzaddik
#1461
TO MERIT TO YEARN FOR THE TZADDIK WHO CAN PROTECT US AND SAVE US FROM OUR PURSUERS IN SPIRITUALITY AND MATERIALISM.
AND THAT THE FIRE OF THE TZADDIK SHOULD BURN IN US AT ALL TIMES.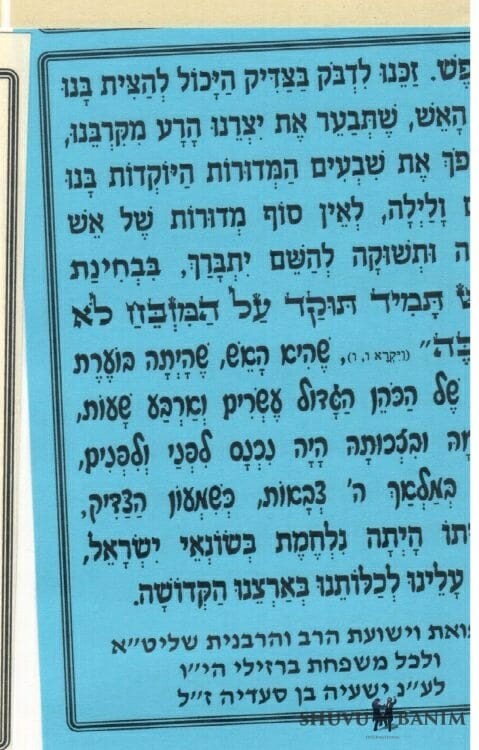 Yearning For The True Tzaddik
Master of the world, please also grant to me the merit of yearning for and longing for this light and pleasantness, with attachment and with great self-sacrifice. May I also merit to hear the wonderful melody of the future to come, the wondrous song, the melody of the king Moshiach, that will play on a harp of 72 strings.
Master of the world, may we merit to come close to this Tzaddik, who can protect us and save us from the tormentors of our body and soul.
May we merit to attach ourselves to the Tzaddik who can ignite a fire within us, that will burn up our evil inclination from within us and will turn the seventy bonfires that burn within us day and night into an endless number of bonfires of fires of love and yearning for Hashem Yitbarach.
In the aspect of, "the fire will continuously burn on the altar and not go out".
And this is the fire which would burn in the heart of the Kohen Gadol 24 hours, and in whose strength and merit he would enter to the inner innermost, accompanied by the angel of Hashem Tzvakot, like Shimon the Tzaddik, whose image would fight the enemies of Israel, that come upon us to destroy us in our holy land.
====
Visit the A-Z of prayers by Rabbi Eliezer Berland, HERE.
====