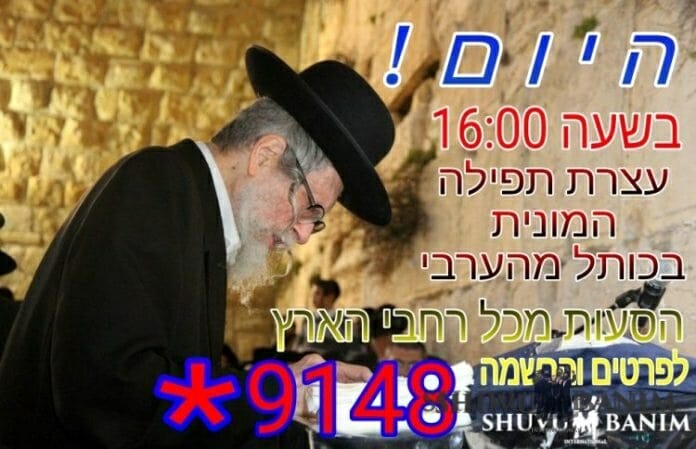 TODAY – Massive day of prayer scheduled at the Kotel
Rabbi Eliezer Berland is still in a serious condition in hospital, and the decrees over the Jewish nation are continuing to strengthen.
Today, Thursday, June 20th, 2019 a massive day of prayer has been scheduled to begin at 4pm at the Kotel, in the Old City of Jerusalem, to tear the Heavens open and help bring the geula b'rachamim, the sweet way.
Buses are being laid on all over Israel to bring people to the event!!
Please call: *9148 to find out the nearest bus departing from your area.
====
Here is the planned schedule of events:
16.30   The kehilla will start to recite the whole book of Tehillim together at the Kotel.
19:30   Mincha and Ma'ariv prayers.
21:30   Reciting the Tikkun HaKlali three times together with the community.
22:30   Reciting the special prayer for Rabbi Berland's health, which was written by the                  Rav himself.
23:00   Dancing until all the decrees are nullified!
====
Here is the special prayer that was written by Rabbi Berland:
No one should be missing!