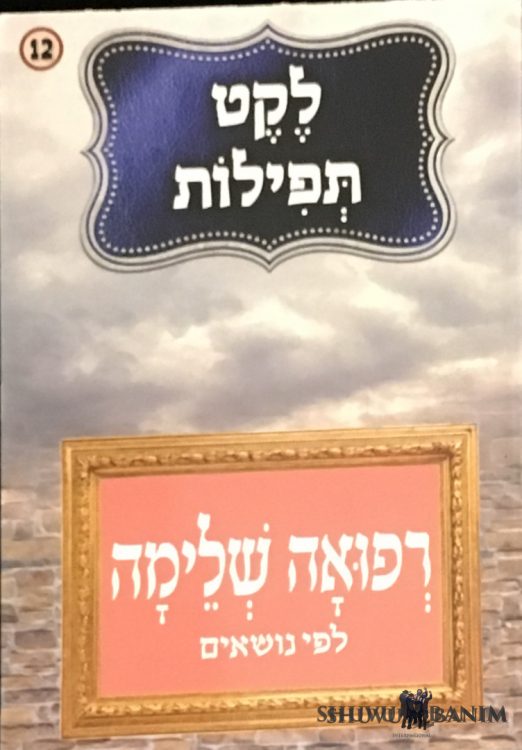 Rabbi Berland's Prayer For A Woman To Be Healed From Pain
The following is translated from Rabbi Eliezer Berland's compendium of prayers in the Refuah Shleimah booklet. To get the prayer in the original Hebrew, you can buy the booklet HERE.
====
Master of the world who can do anything, "Hashem (26) my strength (93) and my defender (119) in whom (8) my heart (42) trusts (19) and who helps me (743)" = 2000 "and my heart (42) will be merry (123) and from my muscles I will praise You" = 1713.
"Creator of healing, awesome in praises", heal …………. in the blink (305) of an eye (130) = 435.
In the merit of the Tzadik (209) the foundation (80) of the world (146) = 435, Rabbenu Nachman the son of Simcha the son of Feige, who is the aspect of the point of the [letter] bet of Bereshit and fulfill in them the verse, "my dove who is hidden in the level of the crack of the rock, show me (267) your (401) appearance (271), let me hear (495) your (401) voice (156) = 2000 because your voice is sweet and your appearance beautiful".
And may …………… merit to live and prosper, to be healthy, in the blink of an eye.
And may she merit to be like Hannah the prophetess, and rest on her the spirit of G-d, and may she no longer suffer any pains at all, like it says, "and rest on him the spirit of G-d, the spirit of wisdom (73), understanding (73), the spirit of advice (165) and fortitude (222), the spirit of knowledge (474) and the fear (617) of G-d (26)" = 1650.
====
Visit the A-Z of prayers by Rabbi Eliezer Berland, HERE.
====