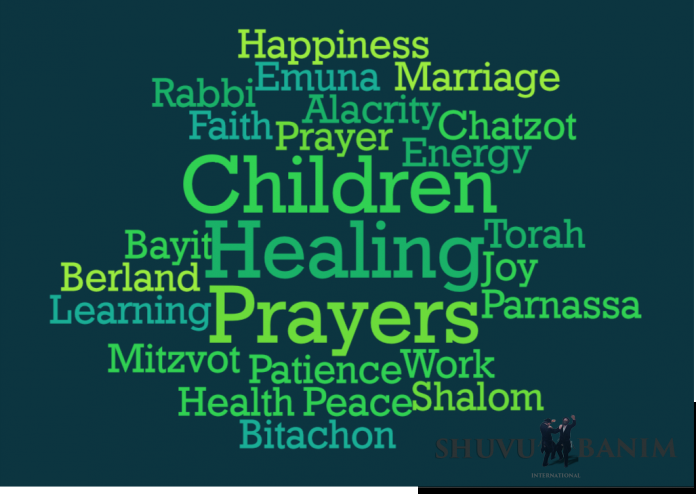 Rabbi Berland's Prayer To Find Grace
TO FIND GRACE
Master of the world, "see my poverty and save me, argue my claim and redeem me, see that I loved your commandments. And bring me your kindness and I will keep Your Torah always, and I will place your commandments in my hand.
"My soul is filled with Your salvation, my eyes are filled with Your words, with Your kindness You give me life and Your words strengthen me, to say when will You comfort me. And I will guard the testimony of Your mouth. I learned Your laws for the sake of not sinning against You, and I will not forget your words."
And may I merit to be a fiery flame towards You day and night, and may I and my (wife / husband) merit to enter with our bodies into Gan Eden.
And I will burn twenty four hours without pause for a moment or a second, in the secret of the jug of Rivkah. "To You is my desire, in You I am enthused and in love, in You is my heart and innards, in You is my spirit and soul, You are my portion, my song and my goodness".
And may there be fulfilled in us the verse, Hashem who is One, "and to Asher he said blessed of the sons is Asher, may he be favorable to his brothers, and his legs be immersed in oil". "Iron and copper from your shoes and like your days that overflowed". "There is no G-d like Yeshurun, riding over the heavens with his might, and the heavens with his pride".
And in the merit of this may I be found charming and with kindness in the eyes of everyone, like Mordechai the Jew and Esther the Queen, like it's written, "and in Esther was found charm in the eyes of all who saw her".
And in the merit of this may there rest upon us, "the spirit of Hashem, the spririt of wisdom and understanding, the spirit of advice and bravery, the spirit of knowledge and fear of heaven".
====
מְצִיאַת חֵן
רִבּוֹנוֹ שֶׁל עוֹלָם, רְאֵה עָנְיִי וְחַלְּצֵנִי, רִיבָה רִיבִי וּגְאָלֵנִי, רְאֵה כִּי פִקֻּדֶיךָ אָהַבְתִּי. וִיבֹאֻנִי חַסְדֶּךָ וְאֶשְׁמְרָה תוֹרָתֶךָ תָּמִיד, וְאֶשָּׂא כַפַּי אֶל מִצְווֹתֶיךָ. כָּלְתָה לִישׁוּעָתְךָ נַפְשִׁי, כָּלוּ עֵינַי לְאִמְרָתֶךָ, כְּחַסְדְּךָ חַיֵּנִי וְלִדְבָרְךָ יִחָלְתִּי לֵאמֹר מָתַי תְּנַחֲמֵנִי. וְאֶשְׁמְרָה עֵדוּת פִּיךָ. לַמְּדֵנִי חֻקֶּיךָ לְמַעַן לֹא אֶחְטָא לָךְ, וְלֹא אֶשְׁכַּח דְּבָרֶיךָ". וְזַכֵּנִי לִהְיוֹת אֵשׁ לֶהָבָה אֵלֶיךָ יוֹמָם וָלַיְלָה, וְנִזְכֶּה אֲנִי וְאִשְׁתִּי (וּבַעֲלִי) לְהִכָּנֵס עִם גּוּפֵינוּ
לְגַן עֵדֶן, וְאֶבְעַר אֵלֶיךָ 24 שָׁעוֹת לְלֹא הֶפְסֵק רֶגַע וּשְׁנִיָּה, בְּסוֹד כַּדָּהּ שֶׁל רִבְקָה. "לְךָ אֵלִי תְּשׁוּקָתִי, בְּךָ חֶשְׁקִי וְאַהֲבָתִי, לְךָ לִבִּי וְכִלְיוֹתַי, לְךָ רוּחִי וְנִשְׁמָתִי, הֲכִי אַתָּה מְנַת חֶלְקִי וְרִנָּתִי וְטוֹבָתִי". וְיִתְקַיֵּם בָּנוּ הַפָּסוּק ה' אֶחָד, "וּלְאָשֵׁר אָמַר בָּרוּךְ מִבָּנִים אָשֵׁר, יְהִי רְצוּי אֶחָיו, וְטוֹבֵל בַּשֶּׁמֶן רַגְלוֹ"
. "בַּרְזֶל וּנְחֹשֶׁת מִנְּעָלֶיךָ וּכְיָמֶיךָ דָּבְאֶךָ". "אֵין כָּאֵל יְשׁוּרוּן, רוֹכֵב שָׁמַיִם בְּעֶזְרֶךָ, וּבְגַאֲוָתוֹ שְׁחָקִים". וּבִזְכוּת זֶה נִשָּׂא חֵן וָחֶסֶד בְּעֵינֵי כוּלָּם, כְּמוֹ מָרְדְּכַי הַיְּהוּדִי וְאֶסְתֵּר הַמַּלְכָּה, כְּמוֹ שֶׁנֶּאֱמַר "וַתְּהִי אֶסְתֵּר נוֹשֵׂאת חֵן בְּעֵינֵי כָּל רוֹאֶיהָ". וּבִזְכוּת זֶה תָּנוּחַ עָלֵינוּ "רוּחַ ה', רוּחַ חָכְמָה וּבִינָה, רוּחַ עֵצָה וּגְבוּרָה, רוּחַ דַּעַת וְיִרְאַת ה'".
====
Visit the A-Z of prayers by Rabbi Eliezer Berland, HERE.
====