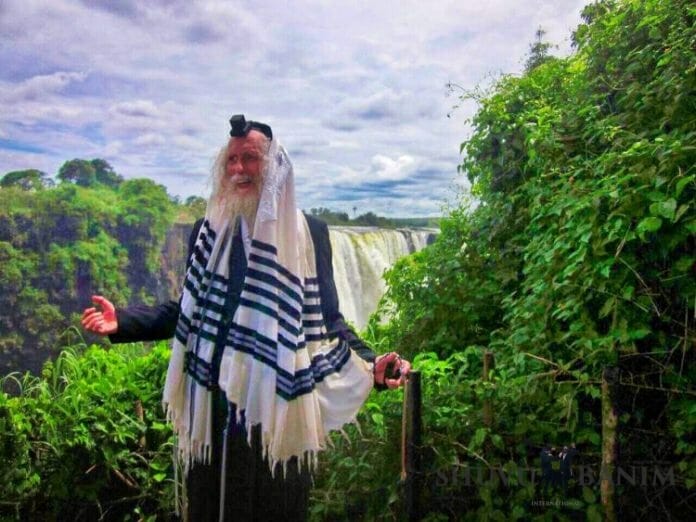 South Africa's winter rains haven't fallen since 2015, making it the worst drought on record
On April 10, 2014, the government of Zimbabwe collaborated with Rav Eliezer Berland's persecutors back in Israel to have the Rav publicly arrested, dressed in prisoner's garb, handcuffed and with his head uncovered, while journalists were invited to take pictures.
Very soon after that, the rain in Zimbabwe stopped.
By the beginning of 2016, the New York Times was calling the El Nino drought in Zimbabwe "the worst drought in more than a generation." As the rain dried up, so too did the crops and the exports which supported the entire Zimbabwean economy. The U.N. World Food Program announced that 1.5 million Zimbabweans needed urgent food aid, as a result of the famine.
Zimbabwe makes teshuva
Shortly after this on the 28th of January, 2016, the niece of Zimbabwe President Robert Mugabe traveled to South Africa to meet Rav Berland and ask his forgiveness, in the name of her uncle and all the Zimbabwean people.
In Shamayim, that apology had an instant effect: strong rains returned to the country, after two years of debilitating drought. According to the Commercial Farmers Union of Zimbabwe's website:
"The country experienced good rains during the 2016/17 rainfall season, putting the country on course to revive its once vibrant agricultural economy."
In the meantime, Rav Berland moved across the border from Zimbabwe to South Africa in April 2014; was arrested in Holland by Dutch authorities acting on a tip-off from Israel in September 2014, and returned to South Africa a second time sometime in July 2015 – three years' ago.
South Africa's cruel treatment of Rav Berland
From the moment the Rav stepped foot on South African soil, he was mercilessly chased by the South African 'HAWKS', a special division of the South African police force who'd been hired privately by the Rav's persecutors to track him down and put an end to his public activities.
For months, the HAWKS hounded the Rav and intimidated his followers in South Africa, until April 7, 2016, when Rav Berland was arrested at a local hospital, enroute to turning himself in to the South African authorities before returning to Israel.
But the Rav's terrible ordeal at the hands of the South Africans didn't end there. He spent Pesach in the infamous, maximum security 'Sun City' prison in a tiny, unheated cell with some of the most violent, deranged people in the world, while the South African authorities refused to enable the Rav to receive any properly kosher for Passover food.
Only when Rav Grossman flew out to personally intervene was the Rav permitted to receive food parcels for Pesach that had been prepared by his wife, the Rabbanit Tehillah.
The Rav's life was in danger on a number of occasions during his stay in South Africa, and it's only b'chasdei Hashem that he and the members of his community returned to Israel unscathed.
Midda K'neged Midda
This month, South Africa's residents were put on notice that their country is officially experiencing the worse drought on record.
According to current government predictions, Cape Town, the country's second biggest city after Johannesburg, it set to run out of water completely by June 1, 2018, when the running water will be cut off to all homes, and most businesses in Cape Town.
According to a report on the VOX website:
"The story of how Cape Town went dry is remarkable, because up until a few years ago the city was help up as an example of a place with particularly sophisticated water conservation policies… in 2015 – just three years ago – Cape Town won a prestigious award for its water conservation policies.
"But 2015 also marked the beginning of a devastating three-year drought, unlike anything the city had seen in more than a century."
While the water shortages in Cape Town are particularly acute, Durban and Johannesburg are also currently operating under tight water restrictions.
A separate report explained how South Africa's once regular winter rains simply stopped falling over the last three years "a phenomenon one meteorologist calls a once-in 628-years weather event."
Perhaps, the South African government should take a leaf out of Robert Mugabe's book, and send a delegation to Israel, to apologize to Rav Eliezer Berland, shlita, for their awful, inhumane treatment of him.
Sincere teshuva worked to get the rains back to Zimbabwe, and with G-d's help, it'll work for South Africa, too.