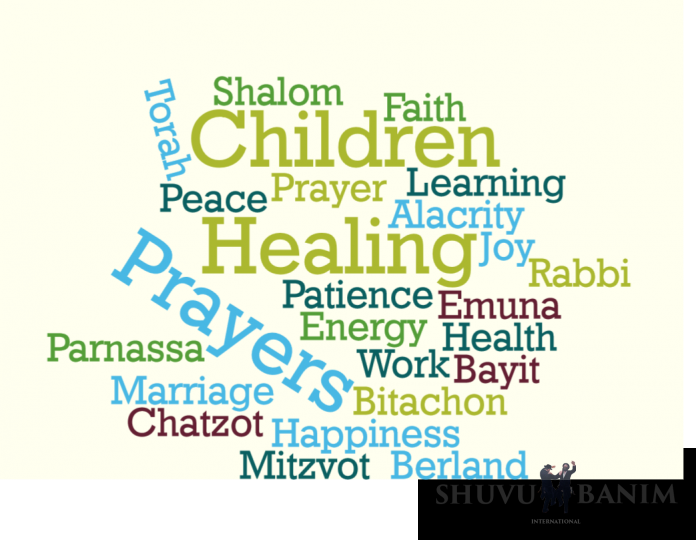 Rabbi Berland's Prayer To Merit Increasing What I Give To Charity
#1182
TO MERIT INCREASED CHARITY GIVING
 Master of the world, who can do anything, grant me the merit to increase charity giving, and through this "There won't be a plague in counting them" (regarding the half a shekel) because through charity we are saved from all punishments, from all harsh decrees and from all the sicknesses in the world.
And I should always increase in charity, and I shouldn't be scared about tomorrow and about things to come.
And I shouldn't worry about anything in my giving charity, and I should never be scared, and I should disperse charity with two hands as it says "He dispersed, he gave to poor ones, his righteousness stands forever" and as it says "There is one who disperses and only increases more".
And grant me the merit through the dispersing charity to be included in the Nukva Depardaska Neckev Yemin (the kabalistic metaphor of right nostril), from which comes the spirit of life for the revival of the dead that Yocheved and Miriam brought upon the children of Israel, and through this they merited a long life, and to the receive of the Torah, and to hear the Ten Commandments.
And in the merit of the charity my mind should open up, and all the blockages surrounding my brain, that keep me from understanding things clearly, should be removed. Rather in the merit of charity I will merit understanding everything that I learn from now on.
And in the merit of the charity I will merit healing all the sick in the world and to revive the dead and to bring the complete redemption in the blink of an eye, Amen for eternity and for ever.
====
 1182   
לִזְכּוֹת לְהַרְבּוֹת בִּצְדָקָה בִּשְׁתֵּי יָדַיִם וְלֹא לַחְשֹׁשׁ לְיוֹם הַמָּחָר וְלֹא אֶפְחַד כְּלָל וְעַל יְדֵי הַצְּדָקָה יָסוּרוּ מִמֶּנִּי כָּל הַמָּסַכִים הַחוֹפִים לִי עַל הַמֹּחַ וְאָבִין הַכֹּל
רִבּוֹנוֹ שֶׁל עוֹלָם כֹּל יָכוֹל, זַכֵּנִי לְהַרְבּוֹת בִּצְדָקָה, וְעַל יְדֵי זֶה "וְלֹא יִהְיֶה בָהֶם נֶגֶף בִּפְקֹד אֹתָם", כִּי עַל יְדֵי הַצְּדָקָה נִצָּלִין מִכָּל הַפּוּרְעָנֻיּוֹת, וּמִכֹּל הַגְּזֵרוֹת, וּמִכֹּל הַמַּחֲלוֹת שֶׁבָּעוֹלָם, וְתָמִיד אֲרַבֶּה בִּצְדָקָה, וְלֹא אֶפְחָד מִן הַמָּחָר וּמִן הַבָּאוֹת, וְלֹא אֶחְשׁוֹשׁ מִכְּלוּם בְּתִתִּי צְדָקָה, וְלֹא אֶפְחָד לְעוֹלָם, וַאֲפַזֵּר לִצְדָקָה בִּשְׁתֵּי יָדַיִם, כְּמוֹ שֶׁנֶּאֱמַר "פִּזַּר נָתַן לָאֶבְיוֹנִים צִדְקָתוֹ עֹמֶדֶת לָעַד", וּכְמוֹ שֶׁכָּתוּב "יֵשׁ מְפַזֵּר וְנוֹסָף עוֹד", וְאֶזְכֶּה עַל יְדֵי הַפִּזּוּר לִצְדָקָה לְהִתְכַּלֵל בְּנוּקְבָא דְּפַרְדַּשְׁקָא נֶקֶב יְמִין, שֶׁמִּשָּׁם רוּחַ הַחַיִּים שֶׁל תְּחִיַּת הַמֵּתִים שֶׁהִמְשִׁיכוּ יוֹכֶבֶד וּמִרְיָם לְיַלְדֵי יִשְׂרָאֵל, וְעַל יְדֵי זֶה זָכוּ לְהַאֲרִיךְ יָמִים, וּלְמַתַּן תּוֹרָה וְלִשְׁמוֹעַ אֶת עֲשֶׂרֶת הַדִּבְּרוֹת, וּבִזְכוּת הַצְּדָקָה יִפָּתַח לִי הַמֹּחַ, וְיָסוּרוּ כָּל הַמָּסַכִים הַחוֹפִים עַל מוֹחִי, וּמוֹנְעִים מִמֶּנִּי לְהָבִין דְּבָרִים לַאֲשׁוּרָם, אֶלָּא בִּזְכוּת הַצְּדָקָה אֶזְכֶּה מֵעָתָּה לְהָבִין כָּל דָּבָר שֶׁאֶלְמַד, וּבִזְכוּת הַצְּדָקָה אֶזְכֶּה לְרַפֵּא אֶת כָּל הַחוֹלִים שֶׁבָּעוֹלָם, וּלְהַחֲיוֹת מֵתִים, וּלְהָבִיא אֶת הַגְּאוּלָה הַשְּׁלֵמָה כְּהֶרֶף עַיִן, אָמֵן נֶצַח סֶלָה וָעֶד.
====
Visit the A-Z of prayers by Rabbi Eliezer Berland, HERE.
====