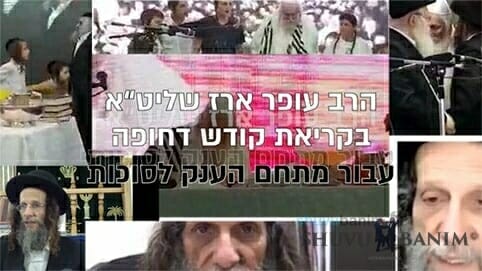 After three years in which we didn't merit to celebrate the holy yahrzeit of Rebbe Nachman with our Rebbe, the Gaon and Tzaddik, Rabbi Eliezer Berland shlit"a, after great effort we succeeded in obtaining a giant area for holding all the events of Chag Succot.
Besides the yahrzeit of Rabbeinu, this includes Simchah Torah and Hakafot Shniot which, bezrat Hashem, will be held together with our Rebbe, Rav Berland shlit"a.
All the arrangements require a great deal of money, because of the great expenses of putting up this phenomenal project.  This includes a giant area of 5,000 square meters which mamash had to be built from scratch.  For comparison's sake, the complex will be ten times larger than the structure which was set up at Toldot Avraham Yitzchak for the Yom Kippur prayers.
For direct donation for the Shuvu Banim Succot complex, click here
For bank transfer:
Bank Mizrahi Tefahot
Branch 403
Account #140689
The Tzaddik Rav Ofer Erez shlit"a in a holy call for the great merit of taking part in setting up the largest complex in the world for the yahrzeit of Rebbe Nachman of Breslov and the events of Chag Succot with our Rebbe Rav Berland shlit"a:
"Just to explain simply the great investment required for the project, we need to prepare the space for setting up the complex and to build the giant succah on it: [it requires] the bringing of giant generators, infrastructure for water and electricity, security, permits from the municipality and security authorities and Magen David Adom, lighting, sound amplification and musical accompaniment, food, trucks, cranes, and more and more.  Altogether the event demands hundreds of thousands of shekels and it's all for us – the wider community, so that the complex will be open and prepared for us.
"Therefore, according to the words of our Rebbe Rav Eliezer Berland shlit"a, we are requesting speedily from each family to donate at least 200 shekels, and anyone who adds, will be blessed.  Our Rebbe Rav Berland shlit"a added and said that twenty mighty warriors who donate 5,000 shekels to the holy event will merit to sit together with the Rav shlit"a at the yahrzeit meal, besides the awesome merit that has no comparison of giving merit to the masses.  There is no other yahrzeit like this on the face of the earth, and all the more so together with our Rebbe Rav Berland shlit"a.
"It took a lot of time and resources to acquire the permit to set up the complex for Chag Succot.  The project is complex and massive.  Therefore, we are requesting that each family act quickly to donate at least the sum of 200 shekels – a very great merit."
Rav Ofer Erez shlit"a added more words about the importance of the event:
"All of us remember the last years, years of hardship.  How much longing we all had to just merit to celebrate the yahrzeit and Chag Succot with our Rebbe Rav Berland shlit"a.  When our Rebbe Rav Berland shlit"a returned to his holy home, he said, 'We are talking about miracles upon miracles, upon miracles, upon miracles.'  Therefore, we all want to merit to celebrate the events of Chag Succot with our Rebbe Rav Berland shlit"a."